Cats deserve treats too!
Did you know that dog owners are twice as likely to treat their dogs than cat owners?  Because dogs are bigger babies,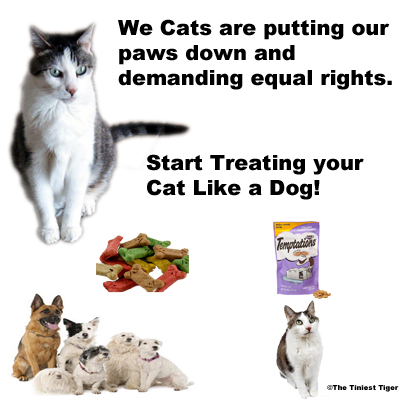 I mean are not as independent as cats, many pet parents are so preoccupied with the  whiny canines that they don't even get time to think about treating the cats!
Well, we cats say no more! Just because we cats are like the A student that always brings home a perfect report card without having to study doesn't mean we don't like attention. We understand the dogs require lots of tutoring just to get along but that doesn't make it ok to take the cats for granted. We like attention too even if we don't always drool and beg for it.
It is time  as a pet parent you start treating your cat like a dog!
Cats like treats too.
Did you know that Temptations® Treats for cats are the leading cat treat on the market? They come in a wide variety of types and flavors too so even the most discriminating feline  palate will find one that they will enjoy.
One of the benefits of treating your cat is that it is the perfect way to connect with your cat and create a playful bond. Cats like to stalk and hunt, so why not place a few treats inside a puzzle feeder or a treat ball to bring out the wild in your house cat?  Don't let your cat become bored, and inactive because you didn't think your cat likes to play.
Did you know that by treating your cat you cannot only build and strengthen the cat/parent bond but you can also reinforce behavior?
Beginning of For Cat Eyes Only!

When you want a treat, just do whatever your parent asks you to do.  It is really that easy.

They might say "scratch the post instead of the sofa" so you think well that is easy enough so when you pass by the sofa and scratch the post you get a treat!  Your parent might say, "let me trim your nails" and you might think let me bite your fingers, but then you think about those delicious crunchy on the outside, soft on the inside Temptations® and tough out the trim!

My brother Mercy likes to hide, but when he hears the shake shake shake of the Temptations® bag, he comes running like a trained puppy.  My grandma is happy she knows where he is, and Mercy gets to chomp a treat.

End of For Cat Eyes Only!
Because I want you to start treating your cat like a dog, the nice folks at Temptations have given me lots of samples for you to try.
Here is all you have to do:
Leave a comment below this post telling me if you treat your cat and how often.
You can go to the Temptations page and  check out all the different cat treat flavors and then tell me which one you think your cat would enjoy the most. www.temptationstreats.com
The Rules:
Due to the power outages this past week, I am extending the date for this contest to Monday, July 9 at 5 pm Eastern.

Contest closes on Tuesday, July 3 at 5 pm Eastern
Please one comment per person. I will enter all names in to Randomizer.com. The winners will be notified by email or through facebook depending on the contact information you provide.  Make sure you are watching for an email from me. The subject line will say Temptations Giveaway .  Void where prohibited by law.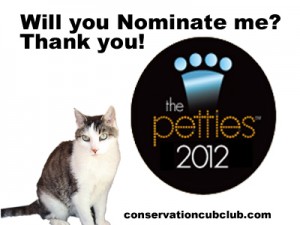 Dont forget to Nominate The Tiniest Tiger for the
Best Cat Blog.
URL: https://conservationcubclub.com
Temptations Cat Treats provided me with samples and coupons.  We were also sponsored to attend BlogPaws by Temptations.  We received no other compensation for this post.