We are truly honored.
We are truly honored to have won The Petties 2012 Best Blog Post Award.  We were thrilled to be finalists and when we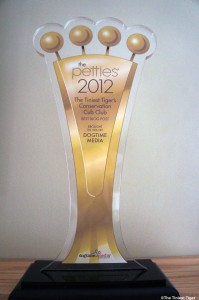 learned of  the other finalists in our category, all super talented wonderful friends and fellow cat writers, we knew we would be thrilled no matter who won, because  Dogtime Media makes a generous donation to a non-profit shelter and we knew that our cousins in need would be getting some much needed help.
Just a couple days after we returned home from the Cheetah Conservation Fund in Namibia, we received and email from The Petties, asking us:
What makes the post that you're nominated for so important?
Having just spent time learning more about the plight of the wild cheetah, as well as leopards and lions, the article that was nominated meant even more to us, and this was the answer that we sent back to The Petties.
Loss and fragmentation of habitat and depletion of prey are leading to rapidly declining populations of wildlife and in particular predators.   Ecosystems need predators to remain healthy, yet humans continue to persecute and eliminate them from our world.   "Cat Obituary Farewell Eastern Cougar"  is about the heartbreak of extinction  and a reminder to care for all animals big and small.
If you would like to read our article here is the link:  Cat Obituary Farewell Eastern Cougar.
As my mom and I are on the home stretch of our Master of Zoology degree with a focus on big cats, this award is deeply appreciated and meaningful.  Thank you to all the members of our community for voting for us and for believing that small paws united can make a big difference and for remembering to care for all earth's animals big and small.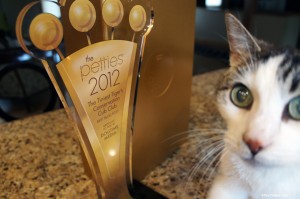 The statuette arrived at our habitat today.  It is very beautiful and shiny.  And it came in a great big box perfect for jumping in and out of and even some paper to pounce on and play.  What a great present.  I was so worked up over the box and all the fun I wanted to have, I didn't feel much like posing for a photo.  I am usually pretty well behaved but I couldn't wait to get back to the cardboard box in which my award arrived.
Thank you Dogtime Media and Super Hurrah for Kitten Associates!
So, I had my mom use my stunt double to pose today.  We want to say thank you once again to our friends that voted for us, and to Dogtime Media for their generous donation to Kitten Associates.
Related articles