The Year of the Snake!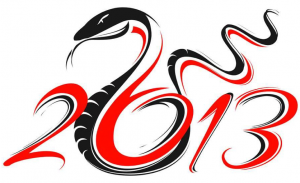 As the Lunar New Year begins, billions of humans are celebrating the year of the snake.  But, if you ask your friends and family members,  chances are they might shiver and declare their disgust and sometimes hatred of snakes.  It is important to remember that most snakes are not venomous. And that snakes do not seek out humans preferring to coexist from a distance just like you might prefer to keep your distance from them. Most snakes will bite only in self-defense so don't mess with them and they won't mess with you.  Most humans in fact, do not interact or even see a living snake in their day to day lives so why  the fear and loathing of snakes?
If you are afraid of  snakes, don't be ashamed, you might not be able to help it due to your evolutionary history. Humans that learned quickly to respect and keep their distance from snakes were more likely to survive and pass on their genes. Anthropologists think survival skills to notice snakes in the wild may have led early primates to develop better vision and larger brains. Today however, most humans do not need to be on full alert and fearful of snakes to make it through their day.  So as we start 2013, the Year of the Snake, let's find at least 3 reasons to love and celebrate snakes.
3 Reasons to Love and Celebrate Snakes!
1) Snakes Keep Rodent Populations in Balance.
Snakes are super efficient predators. They control populations of other animals that humans also consider pests such as rats and mice, as well as insects, slugs and leeches.  Some snakes even fight off the venomous snakes that humans fear the most!  Nature knows best how to keep things in balance. Here is an example:
Mother Nature Knows Best

"A dog kennel worker took it upon himself to eliminate all of the snakes at his place of work. Once the rat snakes had been killed, the roof rat population exploded.
It took two years, hundreds of people-hours, and thousands of dollars to get control of the rats and repair the structural damage the rats had caused. This does not include the hundreds of pounds of dog food the rats ate and contaminated. The economic cost of removing the rats' natural predators was obvious."

William H. Kern, Jr., Ph.D., urban wildlife specialist, Department of Wildlife Ecology and Conservation, Pinellas County, Largo, FL
2) Snakes Keep Infectious Diseases in Check
By policing the rodent populations, snakes keep infectious diseases in check. The United States Centers for Disease Control and Prevention remind us that rodents and the parasites that hitch a ride on them, play a role in spreading bubonic plague, hantavirus, hemorrhagic fever, leptospirosis and many other diseases.
3) Healthy Snakes, Healthy Ecosytem
Snakes often serve as a keystone species meaning they have a top down influence on and prevent species at lower trophic levels from monopolizing resources, such as habitat and food sources. The presence of keystone predators is a good sign for an ecosystem. Keystone predators imply there is an abundant and regulated food supply at the base of the food web. Big cats are also keystone predators and indicators of a healthy ecosystem.
The Year of the Snake

When I see my friends posting that they killed a common Garter Snake or Black Snake, I feel sad.  These snakes are harmless and non-aggressive and help control the insect population in the garden. Once the snakes are gone, insects take over and humans resort to pesticides to eliminate the insects that the Garter Snake would have been more than happy to take care of naturally.
This year, the year of the snake, maybe you can just pause for a moment and think about how you feel about our slithering friends.  Perhaps you could reevaluate your own fears and even if you don't love snakes, you might start to appreciate and respect their reasons for being.  Just like all living creatures, they have a purpose and we can hope that 2013 is the year more of us will begin to celebrate snakes and their role in our world.
Related articles