Love at First Purr!
You Had Me At Meow! by our good friend and artist Missy Johnson caught my eye and it was love at first purr.  Missy is  the creative force behind Dogs for the Paws; art making a difference for animals. Even though the name is Dogs for the Paws, Missy cares deeply for cats too.  In fact, just like us, she loves all animals.   When I saw her You Had Me at Meow! I  became super excited because I thought you would love it too!
Missy Johnson, Artist and Creator of Dogs for the Paws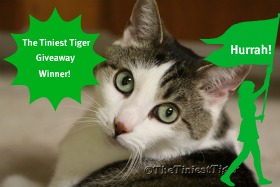 Congratulations and Supper Hurrah to our winners!!!!  We chose using randomizer.org because all the stories are so heartfelt and touching.  Thank you for loving all cats, big and small.
I asked Missy if I could share her art with our  community  she  was  super enthusiastic. In fact, she created a new version of  You Had Me at Meow by  painting in  a conversation heart with the word Purr.  Isn't that the sweetest thing?
Missy and I have love of art in common.  You see, I am somewhat of a cat artist myself,  although my style is more abstract than Missy's.  You can find my work hanging in Gracey's Gallery here on our site.  I am hoping that Missy will give me a few pointers to help me improve my own painting skills, because as you can see, she is a gifted artist.
This is a perfect card for cat lovers not only for Valentine's Day but for all occasions, and now the You Had Me at Meow card is available on the  Dogs for the Paws Zazzle Store.  Even before I could get my paws on the mouse to order a few, Missy offered two posters for two lucky members of our community!  Super Hurrah!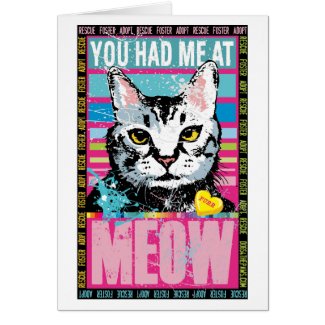 Meow Card
by
DogsforthePAWS
You can
sell greeting cards
, invitations, stamps and more on Zazzle.com!
Enter to Win a You Had Me at Meow Poster 
This contest is now closed!
Stalk our site for exciting contest in the future.
Here is all you have to do
Tell me in a comment below this post the first moment you fell in love with the cat that shares your habitat.
The Rules:
Contest closes on Saturday  February 23 at 5 pm Eastern!
Please one comment per person. I will enter all names in to Randomizer.com. The winner will be notified by email or through facebook depending on the contact information you provide.  Make sure you are watching for an email from me. The subject line will say You Had Me at Meow Giveaway .  Void where prohibited by law.
Follow  Dogs  for the Paws on Facebook to learn more about Missy and her amazing art.
Related articles