ASPCA to Host Top Ten CATdown in Honor of Adopt a Shelter Cat Month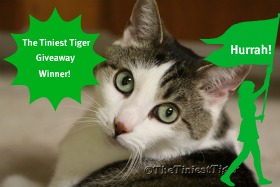 Super Hurrah and Congratulations to Ann! Our winner of the Adopt a Cat Month Giveaway!
In order to inspire the public to consider adoption as their first option during Adopt A Shelter Cat Month, the ASPCA will be hosting a virtual Top Ten CATdown on Ustream.tv. The hour-long live stream event, which will premiere tonight, June 25th at 7pm EST, will be reminiscent of MTV's classic video countdown shows from the '90s. During the CATdown, ASPCA will showcase ten funny and cute videos of cats rescued by top celebrities—including Dancing with the Stars's Carrie Ann Inaba and Good Morning America's Dan Harris.
You can tune in tonight at www.ustream.tv/aspca.
During the event, the ASPCA will premiere these hilarious videos, interview special guests, and educate viewers about the importance of cat adoption. The goal of the CATdown will be to make a difference in the lives of millions of shelter cats around the country by spreading the adoption message far and wide.
There will also be a trivia Twitter party happening along with the live stream with the hashtag #CATdown. The party will feature questions about famous cats in pop culture, with a grand prize being a year's supply of Fresh Step cat litter.
ASPCA Adopt a Cat Month Gift Pack Giveaway
To help celebrate cat adoption, they have offered to give a special Adopt-a-Shelter-Cat gift pack to one lucky member of The Tiniest Tiger community!
The gift pack contains:
an "I Love My Shelter Cat" jumbo tote
a bag of Popchips Katy Perry's Kettle Corn
a cute cat hat
an ASPCA orange wrist band
an ASPCA keychain flashlight
an ASPCA.ORG logo magnet
a  Catster litter scooper
How to enter:
This contest is now closed.  Don't worry, we will have other great giveaways soon.
Just leave a comment below this post telling us your favorite item in the gift pack and why
This giveaway is open to everyone everywhere!
The Rules:
This contest will end on June 26, 2013 at 8 am EST. Please one comment per person. I will enter all names in to Randomizer.com. The winner will be notified by email or through facebook depending on the contact information you provide. If you connect through facebook, check your Other messages not just your main messages. Make sure you are watching for an email from us. The subject line will say Adopt a Cat Month Giveaway  Void where prohibited by law.
Please consider nominating us for a Pettie for Best Cat Blog and Best Blog Post. Pounce here for details.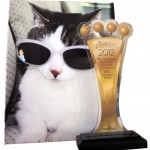 Related articles