Super Hurrah and Congratulations to Miranda! Our winner of the CritterZone Air Naturalizer!
Say Farewell to the Smell!
In March when we returned from Global Pet Expo we talked about the amazing CritterZone Air Purifier. This compact, filter-less, chemical free air purifier is a must for all cat parents.
Now that we have tripled the potential for cat box odors we remain amazed at the power of the CritterZone.  We are so happy with ours, that in honor of The Tiniest Tiger's Anniversary we are giving away a CritterZone Air Purifier to one member of The Tiniest Tiger's community.  Gracey would have said Super Hurrah!!!  To read our original product review of the CritterZone with more details about this fabulous product Pounce here:  Cat Parents Save $10 on Amazing CritterZone Air Purifier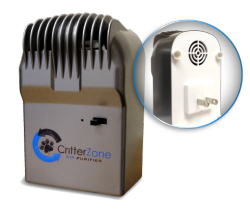 Do You Want One Now?  Here is How you can get $10 off the Retail Price!
CritterZone is offering friends of The Tiniest Tiger a promotion of $10 off the retail price on the CritterZone Wall Plug-In unit or the CritterZone Corded Unit.  To get this special promotion, you can:
2.       Add CritterZone unit(s) to their cart
3.       Enter  GRACEY into the box labeled "Apply Promo Code" and hit the button to adjust the total
4.       Proceed to checkout
We can't say enough positive things about the CritterZone Air Purifier.  It must be experienced to appreciate how great it truly is at cleaning the air.
How to Enter the CritterZone Air Naturalizer Giveaway!  

This contest is now Closed.  We will have more great giveaways soon!
Just leave a comment below this post telling us how you try to control litter box odors.
This giveaway is open to residents of the USA only.  Sorry!  Don't worry we will have other giveaways soon.

The Rules:
This contest will end on July 31, 2013. Please one comment per person. I will enter all names in to Randomizer.com. The winner will be notified by email or through facebook depending on the contact information you provide. If you connect through facebook, check your Other messages not just your main messages.  Make sure you are watching for an email from us. The subject line will say CritterZone Winner  Void where prohibited by law.

Thank you for being a member of The Tiniest Tiger's Community.
Related articles