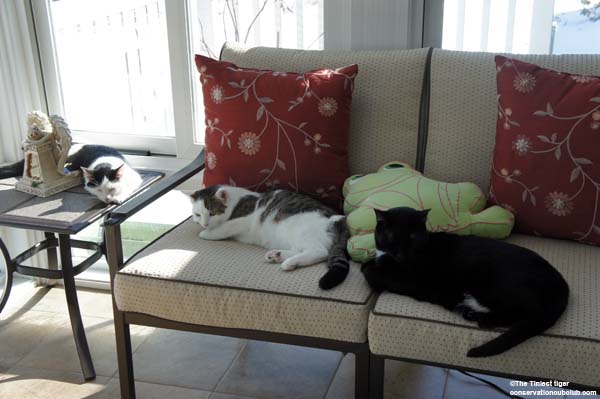 The sun came back and boy does it feel good!  Annie thought she was smart by taking my  usual place on the sofa but to her surprise, the sun moved and now she and Mercy are in the shade. But I am still basking in the warmth of the sunlight even if I am on the end table.  The look on her face seeing the sunlight on the end of the sofa and not shining on her makes me laugh a little.
Our mom went outside to look around the yard.  Today there is a heatwave.  It is above freezing for the first time in almost, I can't even remember.  When she came back inside she brought a surprise for us.  She said now you cats can enjoy snow and a sunny day!
She brought us snow!  We have only seen the snow from inside our habitat but today, for the first time we got to meet the snow.  Annie is always the first to try new things.  She jumped off the sofa and began sniffing the white snow.  She said it smelled like outside  with lots of different scents all mixed together.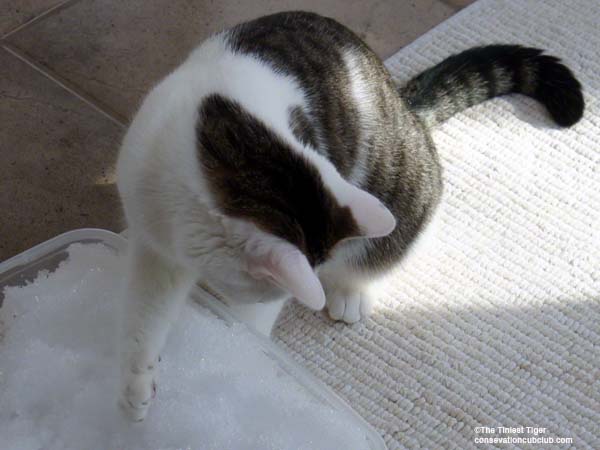 Then Annie put her paw into the cold snow and batted some out onto the rug.  We all watched as it turned from white to clear and disappeared.  That was pretty neat. She kept batting at it and then shook her paw. She said that snow is super cold and you can't hold it very long.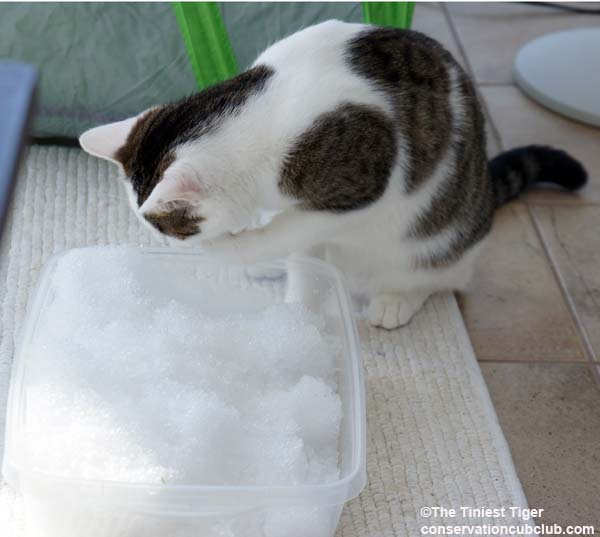 Then Annie decided she wanted to taste the snow.  She said it was cold on her tongue but then it melted and tasted just like water.  She thought it was fun so she kept getting some snow on her paw and then eating it, or drinking it, I am not sure which but she was having a great time.  She looked like she was having so much fun that Mercy decided to join her.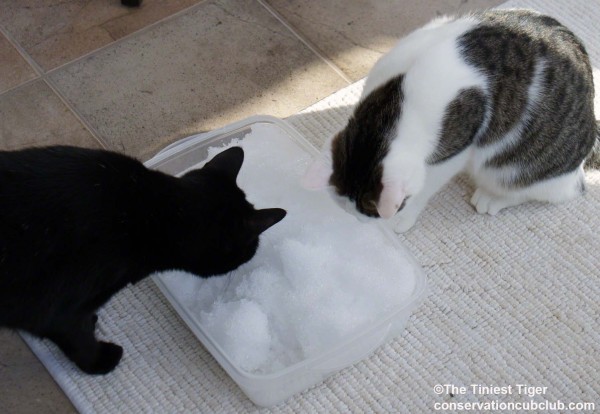 Mercy said it reminded him of his kitten days in the back alley before  he was rescued by our mom and dad.  He only had one night of snow before he was scooped up and brought indoors.  He said  snow isn't that much fun when you don't have a warm place to sleep.  But he still ate a little snow because  Annie made it seem like so much fun.  They invited me to join the snow feast but I said I would wait and see what happened to them first.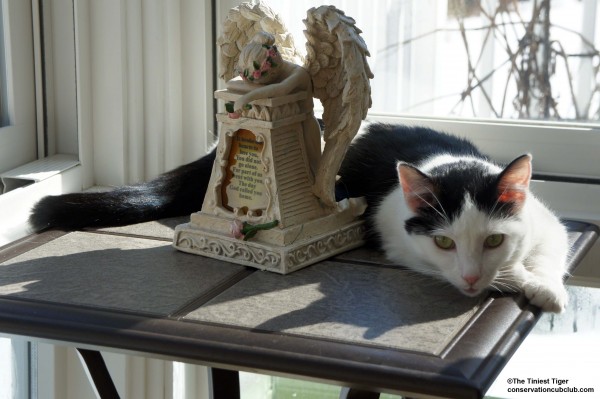 But the truth is that I wasn't about to give up my place in the sun.
Do you like to play in the snow too?