What is a Greenmouse™?
A Greenmouse™ is an eco-friendly cat toy that might just become on of your  cat's favorite play things.  They are made from recycled corrugated cardboard and held together with a piece of organic cotton twine.

5 Reasons Your Cat Will Find a
Greenmouse™

Irresistible
The flexible design allows the Greenmouse to  move and wiggle when batted around.
They make a rustling paper sound when the pieces of corrugated rub together while your cat is playing with the toy.
Perfect shape and size for your cat's paws. The Greenmouse is about 3.5 inches long. (not including the tail.)
Easy to pick up with claws. The corrugated cardboard allows your cat to easily grab hold of the Greenmouse.
Easy to carry around the house by the knot at the end of the tail.
 5 Reasons Cat Parents Will Find a
Greenmouse™

Irresistible
Greenmouse™ toys are made from 100% post-consumer recycled cardboard!  No new tree pulp was used to produce these toys.

Greenmouse™ toys also utilize organic and sustainable cotton twine as well as organic catnip oil spray.
Greenmouse toys are

100% MADE IN USA. This means that all raw materials are produced in the USA. 

The recycled cardboard is produced in the USA.

The organic cotton twine is grown and produced in the USA.

The organic catnip oil spray is grown and produced in the USA.

Finally, Greenmouse™ toys are hand assembled in the USA.

Greenmouse™ toys are durable! Except for a few bite/claw marks here and there, they will stand the test of time. Of course, Greenmouse™ toys won't last forever and you will need to replace if your Greenmouse™ shows signs of excessive wear or deterioration. And try to  keep your Greenmouse™ toys away from water.

The toys are only $5.00 each plus flat rate shipping!
The
Greenmouse™

Giveaway

Two member of our The Tiniest Tiger Community will win 2 Greenmouse toys!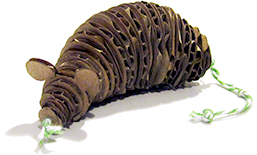 But if you can't wait and want to enjoy watching your cat play with a Greenmouse you can order them directly from The Greenmouse Company
This contest is open to everyone!  Hurrah!
To Enter:
Enter your information in the contest widget and leave a comment below telling us what  you think your cat will like the most about the Greenmouse toy.
The Rules:
This contest will end on March 7, 2014. Please one comment per person. I will enter all names in to Randomizer.com. The winner will be notified by email or through facebook depending on the contact information you provide. If you connect through facebook, check your Other messages not just your main messages. Make sure you are watching for an email from us. The subject line will say Greenmouse winner! Void where prohibited by law.