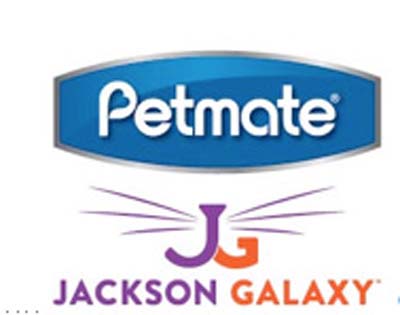 Twitter Chat with Jackson Galaxy #TeamCatMoJo
Today you can chat with Cat Daddy Jackson Galaxy live from the set of his popular show My Cat From Hell on Animal Planet.  Jackson will be talking about his new innovative line of cat toys being introduced by Petmate.
Date and Time: Wed., March 12 at 11:00 a.m. – 12:00 p.m. ET
To Join the Chat: Follow @PetmateProducts and @JacksonGalaxy on Twitter. Watch for the hashtag #TeamCatMojo on Twitter.
In the next few weeks we will be bringing you more information about the Jackson Galaxy Collection.
The PetMate and Jackson Galaxy Partnership
Galaxy is the executive producer and star of Animal Planet's "My Cat from Hell," launching its fifth season on April 26, and is the best-selling author of "Cat Daddy: What the World's Most Incorrigible Cat Taught Me About Life, Love and Coming Clean." Galaxy has been observing, understanding and explaining cat behavior for more than 20 years, working hands-on both in shelters and in homes.
Petmate and Galaxy look to remake the cat play category based on a real-world understanding of cats and their natural behaviors and instincts. Galaxy is personally involved in the design of each product, from concept to packaging, using his unique philosophy of the ideal cat lifestyle, which he refers to as Cat Mojo: Hunt, Catch, Kill,
Eat, Groom and Sleep.
"Everything I do is filtered through my goal of placing all cats in truly forever homes. Partnering with Petmate to create the Jackson Galaxy Collection is a dream come true and speaks to that goal because a happy cat makes for a happy home. I'm looking forward to sharing my passion, knowledge and love of cats by filling the needs of cat families everywhere," Galaxy said. "I am constantly thinking about Cat Mojo — what motivates all cats and what makes them happy. This new partnership is exciting because Petmate shares my vision and understands the need for products based on natural cat instincts."
The Jackson Galaxy Collection by Petmate will be produced in colors that cats easily see, eliminate sounds that cats dislike, enhance people-cat interaction and satisfy cats' different hunting styles, i.e., land- versus air-based prey.
"Our partnership with Jackson Galaxy brings excitement to the category and is changing the way we look at cat play," said Larry Baab, Petmate executive vice president of marketing and new product development. "The marketplace for cats is ready for fresh ideas, and this special partnership will help us take cat play to a new level with product solutions that consider real cat behavior and appeal to cats' senses and instincts."
Petmate will roll out Jackson Galaxy cat play products in 2014, including toys, wands, kickers, scratchers, tunnels and tents. Products will be available to ship to retailers in summer 2014.