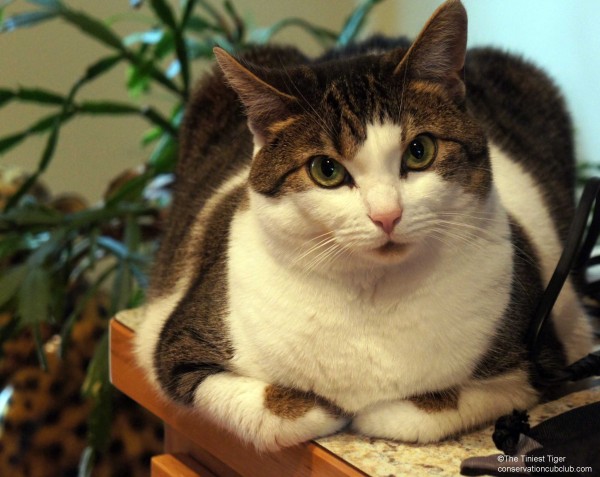 Maggie Had a Tough Year
Maggie has had a tough year. The last twelve months brought a lot of changes for her and we all know, cats are not particularly fond of change. Losing Marie and leaving her home where she lived  as an only cat with one parent, was a difficult transition for Maggie. You could see sadness in her eyes.  She missed Marie and she didn't like sharing her new home with Annie and Eddie.
Maggie was nervous, she spent a lot of time licking her lips and when she wasn't cowering she was plotting an attack, mostly against Eddie. I tried my best to make space for Maggie to relax and get away from the rambunctious kittens.  Most days, Maggie would spend time with me in the office perched up on the desk where she could see the kittens approach, and that is when I first noticed Maggie had difficulty breathing.
Maggie is an Overweight Cat
Maggie is overweight.  At first, I thought she had really short legs, but then realized she was just so overweight her belly nearly touched the ground when she walked.  I thought maybe Maggie didn't feel good and that might be why she was so intolerant of the kittens, so we took her in for an examination. Other than being an overweight cat, Maggie was in good health.  But, being an overweight cat brings health risks, and Maggie is not alone.
Overweight Cats are a Challenge for Cat Parents
In the United States, 55% of cats are overweight or obese. Overweight cats are a growing epidemic as data shows the number of  tubby tabbies has increased by 90% in the last 5 years.*  Overweight cats present a real challenge for cat parents for the following reasons:
Cat parents do not realize their cat is overweight or obese
Cat parents that have tried to help their cat lose weight by cutting back on treats and controlling portions, might have failed in the past especially when your cat gives you the sad eyes.  If you are like most cat owners, you might associate giving food as giving love.
No cat parent wants to feel like they are depriving their cat, even when they  know it is for their cat's own good.
The Cat Weight Loss Program for Maggie
Last November, after trying everything to help Maggie acclimate to living with Annie and Eddie, we made the tough decision that Maggie would be happier living in a home where she would be the only cat.  I am thrilled to tell you  Maggie is thriving in her new home with two adoring parents where she is the queen of the castle.
Even though Maggie continued to shed some weight since she moved last November, she weighed in at 13.1 lbs down from 13.8 lbs, when I learned of the new  Metabolic Advanced Weight  Solution from Hill's® Prescription Diet®, I thought Maggie was perfect for this program. Her doting parents agreed.
Maggie Gets Measured at The Morris Veterinary Clinic
The first step is to make sure your cat is in good health and ready to start the weight loss program.  It is important for your veterinarian to measure and assess the ideal weight for your cat and give you the suggested portion of dry and wet food.
Maggie got the green light to join the cat weight loss program.  Next, Dr. Teresa took her measurements to calculate Maggie's ideal weight.
And a few more measurements.
Now, the calculations to determine Maggie's goal weight.
 Maggie's Ideal Weight is 7.7 lbs!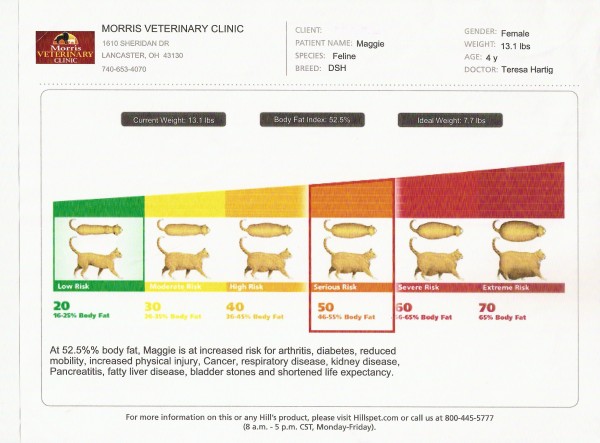 It was no surprise that Maggie needed to lose weight, but when the results showed her at 52.5% body fat, we were all a little shocked.  We knew for sure this was the best path for her.  Everyone that loves Maggie wants  her to live her best life.
Maggie's Path to Her Ideal Weight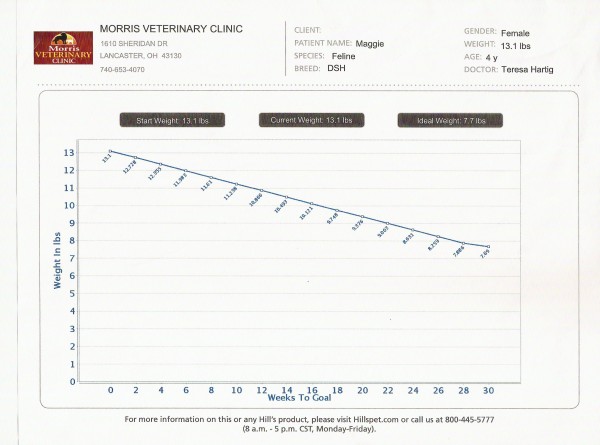 Slow and steady is the best way for a cat to lose weight.  Because Maggie needs to lose a considerable amount, it will take her about 30 weeks to reach her goal weight. Maggie's recommended daily food intake is 1/4 cup dry Metabolic Advanced Weight Solution and about 3 ounces of the wet Metabolic Advanced Weight Solution.
How is the Metabolic Advanced Weight Solution Different?
Hill's Prescription Diet Metabolic Advanced Weight Solution includes a complete portfolio of dry, wet food, and treats designed to work together for easy, flexible weight loss success without deprivation.  This makes it easier for cat parents to keep their cats on the program and to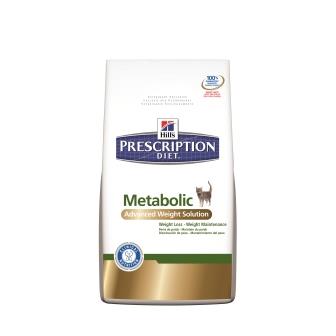 comply with their vet's recommendation.
The Metabolic Advanced Weight Solution is proven to work in real homes with real pets and their parents under real world conditions:
 314 pet parents participated in an at-home feeding study
Without strict protocols or precise measuring, 88% of pets lost weight in two months at home.
8 out of 10 pet parents said they would recommend the Metabolic Advanced Weight Solution to a friend with an overweight pet.
 But How Does Metabolic Work?
The Metabolic Advanced Weight Solution is clinically proven nutrition that naturally activates metabolism to burn fat and regulate appetite. Cats feel full and satisfied and still lose weight. (I asked if this food was available for me.  It isn't.)
Transform your cat's weight by changing what you feed, not how you feed.
The Metabolic Advanced Weight Solution is safe, effective and fast.  You will see a leaner, more playful cat in just 60 days!
Would You Like Your Cat to Join Maggie in the Cat Weight Loss Program?
Do you have an overweight cat that you would like to  join Maggie on the Metabolic Advanced Weight Solution cat weight loss program? Hill's Prescription Diet will give to 10 members of The Tiniest Tiger community the opportunity to try Metabolic Advanced Weight Solution for your cat or dog, with your veterinarian's authorization. Just like us, a doctor should be consulted prior to starting a weight loss program so you will need to get your veterinarian's approval before starting your cat or dog on the program.
The Metabolic Advanced Weight Solution Giveaway
Each Hill's Prescription Diet Metabolic Advanced Weight Solution trial kit contains a $70 value:
1 Weight Loss Success Guide
1 4 lb. bag of Metabolic dry cat food
2 (5.5 oz) Metabolic cans
1 (2.5 oz) Metabolic treats
1 Weight Loss Success Tote Bag
How to  Enter the Metabolic Advanced Weight Solutions Giveaway
To enter, please enter the required information in the giveaway widget below.  Leave a comment below this post telling us if you have tried to help your cat lose weight before and ask any questions you would like to know about the new Metabolic Advanced Weight Solutions food.
The Required Information:
Enter your first and last name along with a valid email address in the giveaway widget below.  Your name and email address will not be published but will be submitted only to The Tiniest Tiger. Your name and email will only be used to contact you if you are a winner of the giveaway.
There are just 3  additional things we need to know:
Do you have a Cat or Dog that will be participating in the weight loss program?
Your pet's age
Your pet's current weight or close guess
 Entries will be accepted from April 23-May 6, 2014 at 11:59 pm Eastern.
This giveaway is limited to one winner per household and is for U.S. residents only.  Void where prohibited by law.
Winners have all been notified via email!  Thank you so much for your interest in helping your cat to a healthy weight!
This post is sponsored by Hill's. I am being compensated for helping spread the word about Hill's Prescription Diet Metabolic Food, but The Tiniest Tiger only shares information we feel is relevant to our readers. Hill's Pet Nutrition, Inc. is not responsible for the content of this article.
*Klausner JS, Lund E. Banfield Pet Hospital State of Pet Health 2012, 2012.