We are celebrating Adopt-a-Cat Month and  the one year anniversary of Annie and Eddie's adoption day.  Our friends at Imperial Cat sent us these sweet catnip Ice Cream Cones and Cupcakes for the kittens and Annie and Eddie want to share them with you.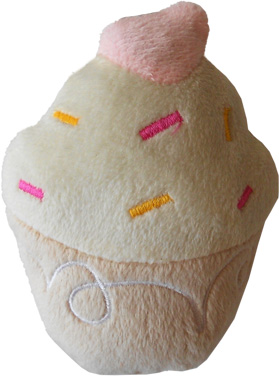 A sweet treat for your cat!
These adorable Cupcake and Ice Cream Cone Refillable Catnip Toys are made exclusively for Cat Claws to Imperial Cat's exacting quality standards and comes with a bag of their Certified Organic USA-grown Catnip. Made from soft plush with a velcro closure so you can refresh the catnip stuffing anytime the catnip becomes stale. Be sure to refill with Cat Claws Certified Organic Catnip for best results – cats can tell the difference!  The Ice Cream Cone Measures about 6.5″ x 3.75″. The Cupcake measures about 4.5″ x 3.25″.
The Cat'n Around  Cat Toy Giveaway
Two lucky friends of The Tiniest Tiger will win either a Cupcake or Ice Cream Cone Cat'n Around Catnip Toy.
To Enter:
Tell us in a comment below whether you prefer the Cupcake and Ice Cream Cone  Catnip toy.
Enter your information in the contest widget so we know where to ship your prize if you win.
The comment below this post is important. If your name is drawn and you didn't leave a comment, another winner will be chosen.
The Rules:
Winner must reside in the United States, but readers outside the United States are welcome to enter and gift their prize to a friend or shelter in the United States.  This contest will end on June 26, 2014. Please one comment per person. I will enter all names in to Randomizer.com. The winner will be notified by email.  Make sure you are watching for an email from us. The subject line will say Cat'n Around Toy Winner! Void where prohibited by law.