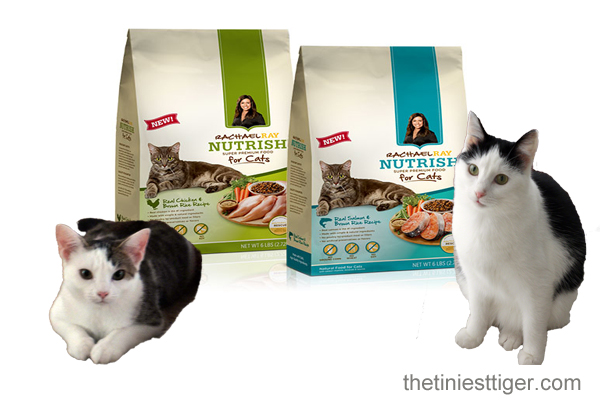 Nutrish for Cats for our Cousins at Grayson County Humane Society
To kick off the celebration of the one year anniversary of Annie and Eddie's adoption day,  we are donating 24 bags of Nutrish for Cats to Grayson County Humane Society. 12 from Annie and 12 from Eddie.  It is hard to believe that a year has passed by since we adopted our sweet kittens.
Donna and her staff at Grayson County Humane Society really take great care of the animals in their care.  Annie and Eddie are both super sweet and this is a testament of the love and care they received in the first  months of their lives at Grayson Humane.  To see a video of the cats getting love and attention at Grayson check out our  post June is Adopt a Cat Month  #AdoptACatMonth .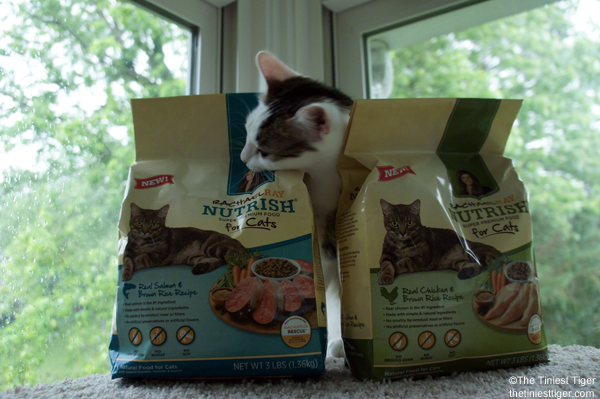 Rachael Ray's Nutrish for Cats
Working with a team of pet nutrition experts, Rachael Ray created new Rachael Ray Nutrish® Natural Food for Cats. Made with simple, wholesome ingredients, each meal is inspired by tasty recipes from Rachael's own kitchen. Real meat, like fish or chicken is always the number one ingredient in Rachael Ray Nutrish for Cats.  There's never any junk like meat by-products, artificial flavors or preservatives. Just a simple, great taste your cat will love.
Natural Dry Cat Food
Real chicken or salmon is always the number one ingredient in every bag of Rachael Ray Nutrish® for Cats. There's no ground corn, wheat or soy. And there's never any by-products artificial flavors or artificial preservatives. Just wholesome whole grains and veggies plus the vitamins, minerals and taurine your cat needs to be healthy and happy.
The Nutrish for Cats Giveaway
Annie, Eddie and Mercy are each giving away one  FREE 3 lbs bag or larger of Rachael Ray Nutrish Dry Food for Cats; any variety. So three friends of The Tiniest Tiger will win!
To Enter:
Enter your information in the contest widget so we know where to ship your prize if you win. Tell us in a comment below whether you think your cat would like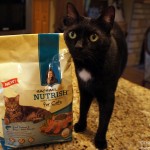 the chicken, salmon or both varieties of Nutrish for Cats.
The comment below this post is important. If your name is drawn and you didn't leave a comment, another winner will be chosen.
The Rules:
This contest will end on June 23, 2014. Please one comment per person. I will enter all names in to Randomizer.com. The winner will be notified by email or through facebook depending on the contact information you provide. If you connect through facebook, check your Other messages not just your main messages. Make sure you are watching for an email from us. The subject line will say Nutrish for Cats Winner! Void where prohibited by law.
This post is sponsored by Rachael Ray Nutrish. All thoughts and opinions are our own. As always, thank you for reading and supporting our sponsors. A big thank you to Nutrish for donating 24 bags of Nutrish for Cats to Grayson County Humane Society.  Nutrish is not responsible for the content of this post.