Maggie is WAS an Overweight Cat
Maggie was overweight. I am thrilled to say that even though she still has a little more weight to lose, that she is well on her way to being a healthier and active cat.
When Maggie first came to live with us,  I thought she had really short legs but soon realized she was just so overweight her belly nearly touched the ground when she walked.  I thought maybe Maggie didn't feel good and that might be why she was so intolerant of the kittens, so we took her in for an examination. Other than being an overweight cat, Maggie was in good health.  But, being an overweight cat brings health risks and we all wanted Maggie to live her best life.  So when the Metabolic Weight Loss Solution program was available to help Maggie, we all agreed to give it a try.
Maggie's Weight Loss Story
Maggie has been participating  in the Metabolic Advanced Weight Solution Program for three months now. I was hopeful that this could really improve Maggie's life and so were her doctors at  The Morris Veterinary Clinic. After Maggie's checkup, measurements and recommended food portions, she was ready to lose weight!  And she has lost weight!
Maggie's Weight Loss is Right on Target!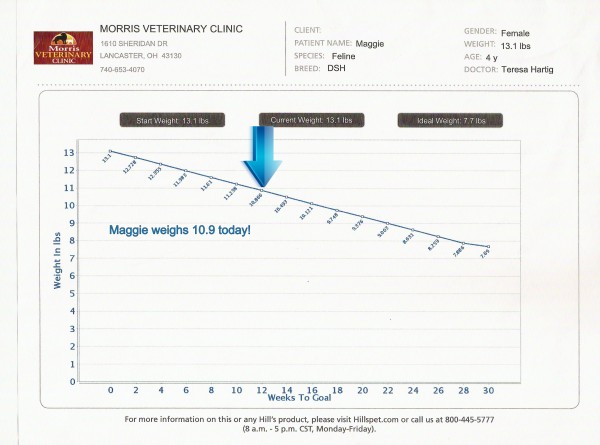 At the beginning of the program, Maggie weighed in at 13.1 pounds which was down from 13.8 lbs from her weight last October.  Today I am ecstatic to tell you that Maggie weighs 10.9 pounds! And if you look at her personalized weight loss goal chart, you will see that she is right on target.
Easy to Follow Weight Loss Program Enables Positive Results
One of the reasons for Maggie's success is that she loves the Metabolic Advanced Weight Solution food and treats.  Vicki cleverly feeds Maggie some of her meals downstairs and some upstairs, encouraging Maggie to run up and down the stairs to get more exercise. Vicki loves how easy it is to measure out Maggie's food for the day and knows she is getting the right amount of calories for a healthy weight loss plan.
Maggie Has More Energy
Maggie loves being an only cat in her house where she is pampered by Vicki and Kenny.  She gets to spend time in her fenced in yard where she has taken the job of guarding her chickens.  Maggie is running up and down the stairs and all around the yard having a great time.
Before Maggie was more of a couch potato, content to sit, eat and sleep.
Today, Maggie prefers to patrol her backyard and as you can see from this photo, her belly no longer touches the ground. She had a tough year and to see her go from Heartbroken to One Happy Cat has made us all very happy.
Maggie is no longer in the serious risk category and is soon to enter the moderate risk category.  I know that she will make her goal to weigh 8 pounds by the end of the 30 week program.
This post is sponsored by Hill's. I am being compensated for helping spread the word about Hill's Prescription Diet Metabolic Food, but The Tiniest Tiger only shares information we feel is relevant to our readers. Hill's Pet Nutrition, Inc. is not responsible for the content of this article.