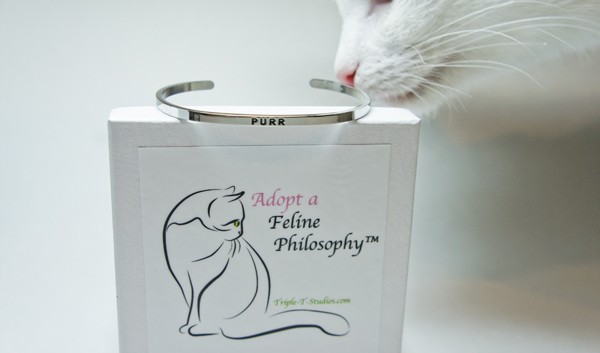 The New Feline Philosophy™ Bracelets
We love our cats for many reasons, but one of them might be their ability to keep us calm. We can learn a lot from our cats too and perhaps one of the most valuable things is to live in the moment, listen more, talk less and purr.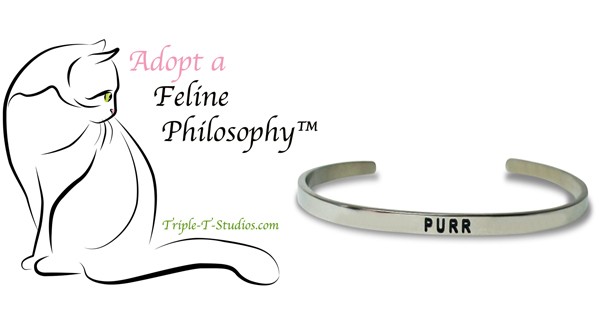 Our new bangle statement bracelets are not only a beautiful accessory but a way to help you Adopt a Feline Philosophy to stay mindful throughout the toughest of days.
The Feline Philosophy Bracelets are made exclusively for Triple T Studios of stainless steel and are nickel and lead-free.  The stainless steel bangles are strong,  resilient, and will keep their shine.  I have been wearing mine for several months now and they look good as new!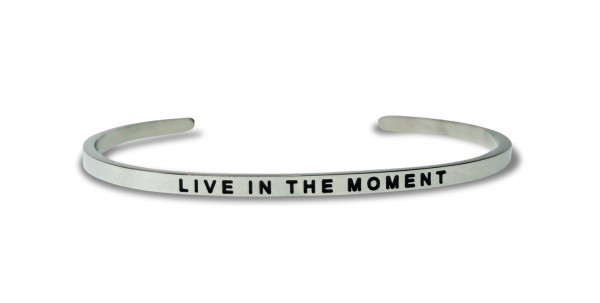 Live In The Moment
We created the bracelets after asking you which feline philosophy you liked the most.  The top three phrases were chosen.   Our cats remind us to slow down, take our time and live in the moment.  By living in the moment, we are more likely to enjoy the journey of our lives instead of racing towards a finish line of goals we have set.
Listen More, Meow Less
Have you noticed that listening is becoming a lost practice?  More often than not, I am observing people not listening but zoning out and looking at their screens.  Our cats remind us to listen more and speak less.  Our cats listen closely to the sounds around them.  And they only speak when necessary…like when breakfast is a minute late.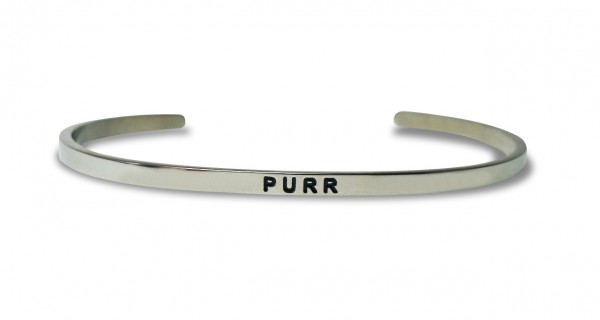 Purr
"If there were to be a universal sound depicting peace, I would surely vote for the purr."– Barbara L. Diamond
I agree with Barbara L. Diamond.  The Purr should be the universal sound depicting peace.  Our cats keep us calm with their purrs.  We too can try to be a calming influence for our friends when they need an anchor during stormy weather.
The Feline Philosophy Bracelet Giveaway
One member of The Tiniest Tiger community will receive one of each of the three new Feline Philosophy bracelets; Purr, Listen More, Meow Less and Live In The Moment.  If you can't wait, you can learn more about the new statement bracelets here Triple T Studios.
How to Enter
Enter your information in the contest widget so we know where to ship your prize if you win.
Leave a comment below this post telling us:  Which Feline Philosophy do you relate to the best?
This giveaway is open to everyone!  Void Where Prohibited.