Valentine's Day is fast approaching and for many it brings with it not only a frenzy of flowers, hearts, cupids and candy, but the stress of failed relationships, loneliness and extra calories!  According to bestselling author Hellen Chen, more than 85 percent of dating relationships end in a break-up and sadly, nearly a third of marriages end in divorce.
This is why Best Friends Animal Society is suggesting to set realistic #Relationship Goals this year. You are more likely to find true love at your local animal shelter than at your local bar or dating website. According to a University of Wisconsin-Madison study, about 81 percent of people on dating sites and apps lie about height, weight or age in their profiles.  See….cats don't to that.  What you see is what you get!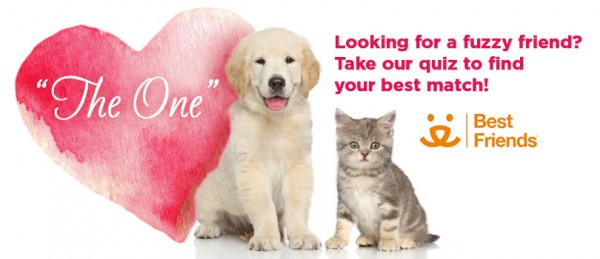 This Valentine's Day, Best Friends Animal Society and Hallmark Channel have teamed up to help you find "The One!" From February 1 through 15, find your special Valentine through Best Friends' "The One" adoption special, and take home your true love for only $14. Ready to find your purr-fect match? Take "The One" Purrsonality Quiz
Instead of a dozen roses Best Friends gives you 12 reasons to ditch dating and adopt a pet!
12 Reasons To Ditch Dating and Adopt a Pet
1.     Hanging with a pet will give pleasant new meaning to "Netflix and chill."
2.     Your pet's lasting love will make you never fear being "ghosted" again.
3.     Adopting a pet will help you overcome that fear of commitment.
4.     You'll always have someone there to kiss you good morning, even before you brush your teeth.
5.     Walking a cat on a harness and leash is a guaranteed attention-getter.
6.     Chances are your pet will love to spoon and snuggle as much as you do, if not more.
7.     Your new canine companion will give you a valid reason to hang out and meet people at the dog park.
8.     More than 63 percent of people consider pets to be members of the family (according to the AVMA). So no matter what the configuration of a family unit, pets are a perfect source of love and companionship.
9.     If you're not finding true love on Tinder, adopting a pet may be your answer.
10.  A pet will help you get accustomed to 24/7 adoration and unconditional love.
11.  An adopted pet can help you become less self-centered, as you learn to put another's needs before your own.
12.  If you're looking for love, but are freaked out by forever, check with a local shelter or rescue to find out about fostering.
Finding "The One" for Valentine's Day
Check out this fun video for further reasons to ditch dating and adopt a pet to find true love.
We are proud to be ambassadors of Best Friends Animal Society.  We only post what we think will be of interest to our readers and all opinions are our own.