PetSafe's Automatic Teaser Toy Flitter for Cats
Our friends at PetSafe sent their automatic teaser toy Flitter to entertain the cats. Flitter has two dragonfly teasers that fly around and around, for your cats to chase and catch.  When the Flitter arrived, Annie, as usual, was the first to investigate while Eddie stayed back at a safe distance to observe.
Annie watched the dragonflies whirl around while Eddie moved a few steps closer to get a better look.  Mercy was in the middle of his afternoon nap on Paul's pajamas and couldn't be disturbed.
It didn't take long for Annie to start having fun batting and trying to catch the drafonflies.
Cats Play With Flitter
Annie shows Eddie that the Flitter is safe and even pauses to wait for Eddie to join in the fun.  Eddie is much more cautious than Annie and takes his time before trying something new.  Annie has no fear.  Always first to jump in.
The Flitter Features:
Play While You Are Away mode for multiple play sessions all day
Automatic shut off after 10-15 minutes
Multiple teaser arms are great for multi-cat play
Teasers are replacable
The Flitter includes:
Flitter Base
2 Teaser Arms
Base Legs
The Flitter is super easy to assemble. No tools required.  You will need 3 AA batteries.
Both Cats Play with Flitter All Afternoon
In the afternoon I placed the Flitter on the office floor so I could supervise the cats playing.  When Eddie thought I wasn't looking he began to play batting at the whirling dragonflies while Annie watched.
After a few minutes, both Annie and Eddie began to play with the Flitter and they did so off and on for the rest of the afternoon.
The PetSafe Flitter Giveaway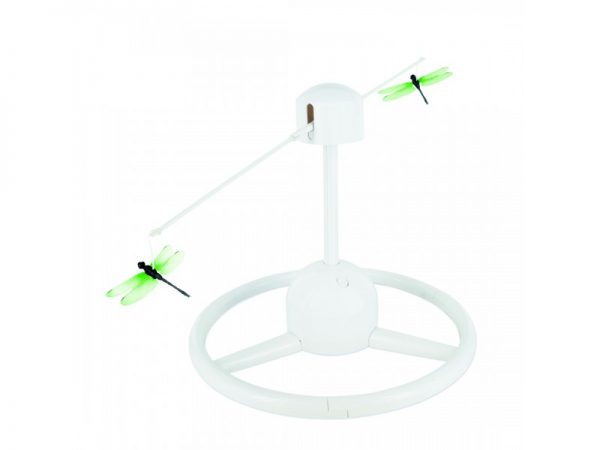 One member of The Tiniest Tiger Community will win a PetSafe Flitter automatic teaser toy for your cat.
How to Enter
Enter your information in the contest widget so we know where to ship your prize if you win.
Leave a comment below this post telling us; Have you tried automatic teaser toys for your cat?
This giveaway is open to USA addresses only.  The Flitter will ship directly from PetSafe.
The Rules:
Void where prohibited.