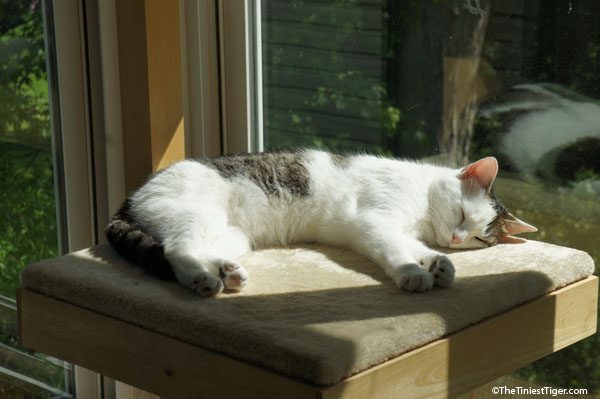 Annie's Little Pink Ears
Annie, like most cats, loves to nap in the sunshine.  She joins Mercy and Eddie in the sunroom and they all find a comfortable place to soak up the sun. But when the late afternoon sun shines too strong Annie moves into  the Shark Cat Ball or she joins me in the office.
Annie might know to take a break from the sun because her white ears and pink nose are more susceptible to sunburn than her darker fur covered back and tail.  We check Annie's cute pink ears for any sign of sunburn and so far she has been safe from harm.  But it is possible for your cat to get sunburned.
Signs Your Cat Has a Sunburn
If your cat has experienced over-exposure to the sun, the first sign is usually a mild redness of the skin and hair loss along the edges of the ears. You will want to check with your veterinarian to see if your cat needs any treatment from the sunburn.  If your cat is showing scaly spots, thickening of the skin, and itching, these are a sign the sun damage has progressed and require a veterinarian visit.
Do not use sunscreen made for humans or dogs on your cat.  Remember your cat will lick to clean her ears and nose.  Your cat's liver is sensitive and may be unable to metabolize ingredients in the sunscreen that she ingests or absorbs.  Ask your veterinarian before applying any treatment on your cat. Remember! Don't let your cat lick your face or body when you are wearing sunscreen!  Make sure to shower after applying sunscreen and exposure to the sun before cuddling your cat.
The best defense against the sun  is to limit their direct sun exposure during the hottest parts of the day.  You can add reflective film to your windows to filter out harmful UV rays and/or add shades to diffuse the sunlight that does come in during the hottest time of day.
Protecting Yourself from The Sun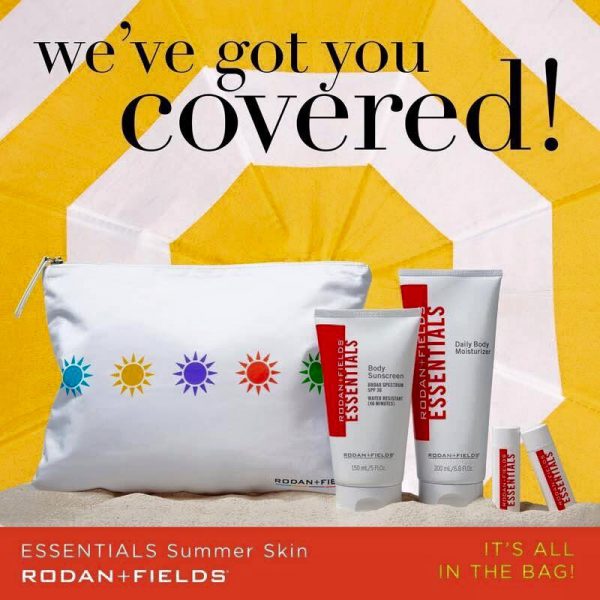 I swim outside everyday during the summer. The sun, even in the early morning, begins to work on my skin. The fact that I am in the water swimming laps intensifies the sun on my face.  I wear a cap and goggles but the rest of my face and body gets too much sun.  I have tried a lot of sunscreen over the years and my favorite is Rodan + Fields Essentials Broad Spectrum SPF 30 Body Sunscreen.  This lightweight, non-greasy formula is water resistant up to 40 minutes and protects your body from harmful UVA and UVB rays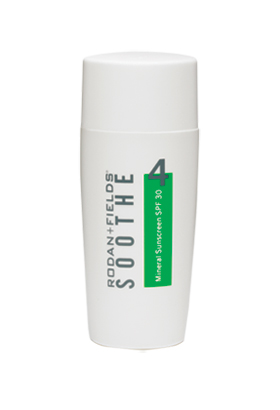 For my face, my favorite is Rodan + Fields Soothe Mineral Sunscreen. This broad spectrum SPF 30 formula contains only mineral-based sunscreen to protect your face without compromising the skin's moisture barrier.  This lightweight formula also calms, soothes and minimizes the appearance of visible redness.  
I thought you might like to try the Rodan + Fields Essential Summer Skin products to protect your skin and face from the sun too.
The Protecting You From The Sun
One member of The Tiniest Tiger Community will win an Essentials Summer Skin Kit to protect your skin from the sun.  The kit includes an Essentials Body Sunscreen, Daily Body Moisturized and Lip Balm  In addition you will receive one of the Soothe Mineral Sunscreen.  
You can find more information about the Essentials Skin Products here: My Rodan + Fields  This link  is  to my independent consultant page.  I liked the products so much, I became a consultant.
How to Enter
Enter your information in the contest widget so we know where to ship your prize if you win.
Leave a comment below this post telling us; What do you use to protect your skin from the sun?    
This giveaway is open to everyone.
The Rules:
Void where prohibited.