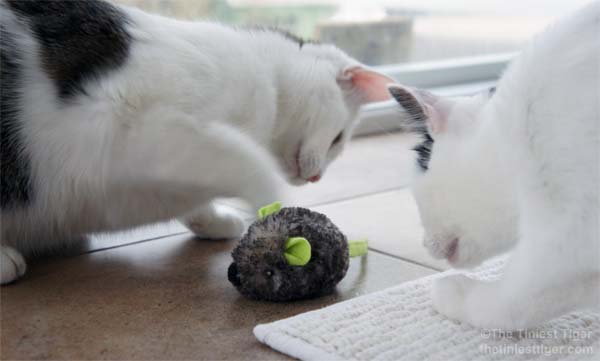 This post is sponsored by Purina but The Tiniest Tiger only shares information that we feel is relevant to our readers' interests. Purina is not responsible for the content of this article. All opinions are our own.
As we and our cats get older it becomes easier and easier for us to put on extra weight. Annie and Eddie just turned 3 so they are still very active running and playing every day.  Mercy is 8 so even though he might have liked to slow down, living with two younger cats has forced him to be more active.
Many cat owners don't even realize their pets are overweight. It is estimated that over 50% of US cats are overweight. Research shows overweight cats are more likely to develop health problems than cats at a healthy weight. These problems can diminish their quality of life and may even shorten their lives.
Purina has developed tools to help you and your veterinarian determine your cat's ideal body condition, then help her reach and maintain her optimal weight. The good news is that getting your cat into shape may help you enjoy many active years together.
Follow a healthy weight management plan with these simple steps to help your cat have a long, healthy life.
Tips For a Healthy Life with Your Cat
OBESITY CHECK
How do you know if your cat is overweight? Start with a Healthy Hug! A simple rib check is a great way to determine if your cat has a weight issue. If you cannot feel her ribs, she is carrying extra weight.  If her waist cannot be seen when viewed from above and/or her belly is rounded when viewed from the side your cat may need weight management.  Consult your veterinarian about whether a weight management program is right for your cat.
RIGHT NUTRITION
Your veterinarian can recommend a nutrition plan that will help your cat reach ideal body condition. An effective diet should include the right balance of protein, fat and fiber to promote healthy weight loss.
MEASURE EACH SERVING
Follow the feeding guidelines on the back of Purina packages and measure each serving to ensure you're feeding the right amount of food for your cat's ideal body condition. Dividing the daily food allowance among multiple meals can help keep your cat satisfied all day.
LIMIT TREATS
If providing an occasional treat is important to you and your feline friend, work with your veterinarian to build a treat allowance, such as 10% of the daily calories, into your cat's nutrition plan.
POUNCE AND PLAY
Check with your veterinarian to determine how much exercise is appropriate for your cat. Then encourage increased activity with more playtime and even daily walks. Your cat will burn more calories and maintain more lean body mass. And you will have fun together strengthening your bond with your cat.
Eating Healthy Mean the Right Nutrition
Simply limiting the amount of food you feed your cat may not be the best approach to managing her weight. Cats need the right balance of protein, fat and fiber for successful weight loss without losing muscle. Purina Pro Plan Veterinary Diets® OM Overweight Management® Feline Formula includes a high level of protein a cat's metabolism demands to maintain lean muscle while its low levels of fat and calories encourage healthy weight loss. And OM contains just the right amount of fiber to help a cat feel satisfied while she loses weight.
Weight loss in cats should be gradual. By matching the right nutrition with other healthy practices, such as daily exercise and regular veterinarian visits, you will help your cat return to her ideal body condition and live a long, healthy life.
The FitBit Flex Helps Keep You on Track
As for me, I didn't pass the rib test.  I spend way too much time at a desk and this winter the pounds seemed to creep up on me. Now that summer is here, I can swim laps every day so if I can discipline myself to limit my treats and measure my food, I should be feeling happier and healthier soon too.
The FitBit Flex will help you track steps, distance, calories burned, active minutes and sleep.  Our friends at Purina offered us a FitBit Flex to give to a member of The Tiniest Tiger community, and we are excited to be hosting this giveaway to help our friends stay active and healthy.
The FitBit Flex Giveaway
One member of The Tiniest Tiger community will win a FitBit Flex to help you stay on track to staying happy and healthy with your cat. Your FitBit Flex will ship directly from Purina.
How to Enter:
Enter your information in the contest widget so we know where to ship your prize if you win.
Leave a comment below this post telling us: How do you and your cat try to stay healthy?
Void where prohibited.