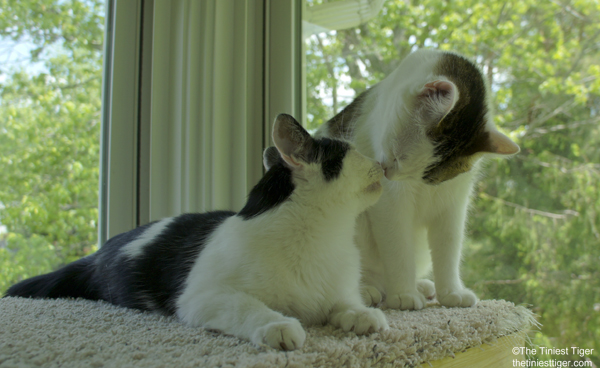 This post is sponsored by Petfinder. The Tiniest Tiger only shares information we feel is relevant to our readers and all statements and opinions are entirely our own.
Love at First Sight!
You might already know that when I saw Annie's photo on facebook that it was love at first site.  Without the help of  Petfinder's  blueprint of connecting adoptable pets with potential pet parents online, we would not have met Annie and most likely would not have had the opportunity to bring both Annie and Eddie into our family.  Paul and I were trying to recover from broken hearts from losing Gracey when we decided to adopt Annie and Eddie into our family.
This was one of the best decisions we have made.  Annie and Eddie not only helped heal our broken hearts but brought back joy and laughter into our home.  Every day, no matter what challenges we face, they help us feel better, makes us smile and warm our hearts.  A bonded pair waiting in their crate at the shelter, Annie and Eddie remain best buddies.
Happy 20th Anniversary Petfinder!
For the past 20 years, Petfinder has worked to ensure that more adoptable pets find their forever homes. Since 1996, Petfinder has helped facilitate more than 25 million pet adoptions through its shelter and rescue member organizations. That is an average of 1.2 million pets per year who found their forever homes with the help of Petfinder. 
Petfinder encourages people to consider adoption when adding a pet to their family. Petfinder's goal is to make the pet adoption process easier by connecting people with pets and removing barriers during the adoption process.
Petfinder To Donate $200,000 to 20 Shelter and Rescue Members
To celebrate its 20th anniversary, Petfinder is asking pet parents, pet lovers and pet advocates to join the celebration and its effort to donate $200,000 benefitting 20 shelter and rescue members. To make this donation possible, Petfinder is asking animal lovers to help generate one million views of its #MetOnPetfinder anniversary video.  
Petfinder-Celebrating 20 Years and 25 Million Adopted Pets
You Can Participate in the Anniversary Celebration Donation Too!
Before October 24, watch this Petfinder video showing how adopted pets have transformed the lives of their adopters.
Share the video with your friends and family.
Share your Petfinder adoption stories on social media by using the hashtag #MetOnPetfinder
When the one million views goal is met, 20 Petfinder shelter and rescue members will each receive a $10,000 grant from the Petfinder Foundation to help continue to transform the lives of the pets in their care and cultivate more lifelong relationships.
Don't forget to use the #MetOnPetfinder hashtag when you share your pet adoption story and make sure you tag Petfinder when you post on your favorite social media channels:
Facebook: Petfinder
Twitter: @petfinder
Instagram: @petfinder