Guide To Santa's Nice List
I have heard that some people consider the coming days  "the most wonderful time of the year". When I asked why, Mercy said that the holiday season is when people gather together to celebrate family and friendship, and it is the season of giving. (Make sure you visit us on #GivingTuesday in a few short days!)  Mercy said if his memory serves him, that humans tend to eat too much, decorate their habitats with bright, shiny things and might even be overheard singing.  If a cat if fortunate to make it on Santa's Nice List, they might get extra treats, toys and other wonderful surprises in their stocking.
Mercy told me if I was worried about making Santa's Nice List, I could study the Guide and find out what to do to improve my behavior even though it is a little late in the year to make any significant changes. I am not sure but I think Mercy was smirking as he walked away.
Friends, I don't know if I can make the list this year.  I mean, I haven't been completely rotten all the time, but let's say curiosity tends to get the best of me. I better ask Eddie what he thinks.
I must admit, I am a little nervous.  Eddie looks worried, doesn't he? But honestly, he isn't an angel either.  I know he looks like he would never do anything wrong, but it was Eddie that knocked the owl off the mantle, not me.
My fears are valid.  Eddie said that according to the Guide to Santa's Nice List, we both might not make the cut this year. The list of our transgressions is long, even too numerous to count on our paws.
Eddie said, he is pretty sure Mercy will be at the top of the list, no problem.  That isn't fair.  Mercy is older than us so he isn't as impulsive and he doesn't like shiny things as much.   Eddie often runs off with the silver ribbons for Triple T Studios packages.  And sometimes if you see chomp marks on your envelopes…that might be me.
In order to get back in good graces and make the nice list, we have decided to be in the spirit of the season and giveaway two $100 Triple T Studios Shopping Sprees!   One from Eddie and one from me.  Thanks for reading my post.  Annie
The Triple T Studios $200 Gift Card Giveaway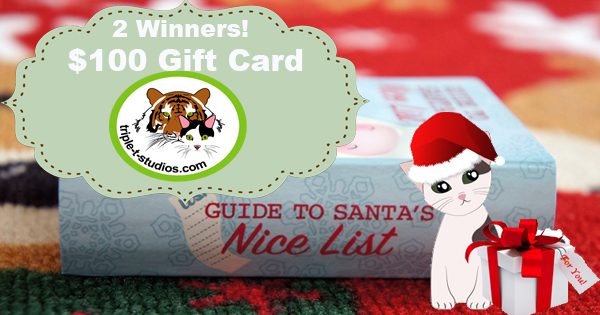 Two Members of The Tiniest Tiger Community will win a $100 Triple T Studios Shopping Spree!  You can find more information about Triple T Studios here: Fashion With a Passion™
How to Enter
Enter your information in the contest widget so we know who you are and where to find you.
 Pounce over to Triple T Studios to see what you might like to buy on your shopping spree.
 Then come back here and tell Eddie and me what you will choose.
 Then tell us what chance you think we have of making Santa's Nice List this year.
The comment is important.  We won't know if you think we will make Santa's Nice List if you don't tell us.
This giveaway is open to everyone.