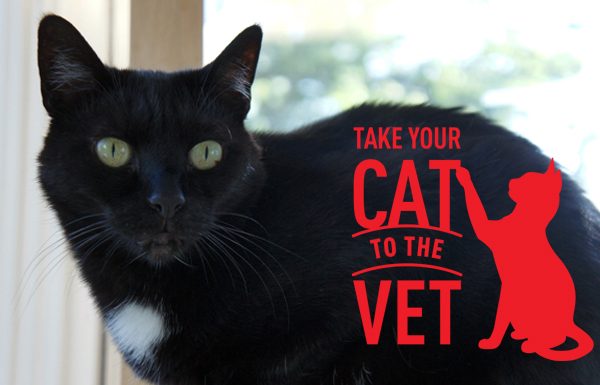 #Cat2VetDay
Did you know that a cat year being equal to seven human years is not accurate?  Experts estimate that a one-year-old cat is close to a sixteen-year-old kid. By two, your cat is closer to a twenty-one-year old adult.  For every year after, add four "human years" as your cat ages. The American Association of Feline Practitioners says cats advance to mature age by the time they're between 7 and 10. They're considered "senior" cats from 11 to 14 years and "geriatric" beyond that.
Cats  experience many of the same issues we do as we get on in years. But cats don't complain about their aches and pains, failing appetite or litter box issues. Cats conceal their weaknesses because as both predator and prey, they know illness makes them vulnerable.
Experts recommend semiannual visits to the veterinarian for senior cats to set a baseline and catch problems early, before they become harder (and more expensive) to treat. Your veterinarian will perform a wellnes nose-to-tail physical inspection to check your cat's fur, its muscle tone and the condition of its organs, eyes, ears and mouth.
Your cat's vet may also want to conduct baseline screening tests that may need to be repeated on an annual basis. These screenings can include tests to measure your cat's blood pressure, blood cell count, liver and kidney function and thyroid function. Such screenings can signal signs of disease such as kidney and liver disease, hyperthyroidism and urinary problems.
Mercy Me!
All three cats had their wellness exams earlier this month.  We  decided to run the IDEXX SDMA test for Mercy because he is 10 years old and we wanted to get an idea of his kidney function as well as how he is doing overall.  We had the test run  and the results were not at all what we were expecting!
Mercy's kidney health is perfect and in fact quite remarkable for a 10 year old cat.  This was good news.  But what the test also showed is an abnormal  Cardiopet proBNP.  Mercy's results show on the low side of high but enough to cause concern.  NT-proBNP concentration is compatible with increased stretch and stress on the myocardium. To understand better and get a more accurate understanding of cardiac structure and function, echocardiography is recommended.
We are not seeing any signs of respiratory distress but the blood work also showed an elevated thyroid level.  The results of the echocardiography will help us know if Mercy has high blood pressure, heart issues and/or if they are due to the thyroid levels.
Today we are waiting for the call from the clinic to let us know when we can pick Mercy up and learn the test results.  We are nervous and worried about out little guy.  Please send positive thoughts and prayers for our boy.  Thank you so much.
If we had not taken Mercy in for his wellness exam and asked for the IDEXX SDMA panel, we would not have known he was experiencing these health issues.  The test, was $115.00  to run but allowing us to find a problem and perhaps help him with medicine is priceless.
Today is Take Your Cat to the Vet Day!
We know how lucky we are that we could provide Mercy with the IDEXX SDMA panel.  Many of our friends are not able to provide the care their cats need so during the month of August, post a picture of your cat or tips for taking your cat to the veterinarian on Facebook, Instagram or Twitter using #Cat2VetDay, and Royal Canin will donate to Frankie's Friends.**
FRANKIE'S FRIENDS
Frankie's Friends provides grants to help with the cost of life-saving or life-enhancing emergency or specialty care for pets whose families cannot afford the full cost of treatment.  To learn more pounce here:
Frankie's Friends