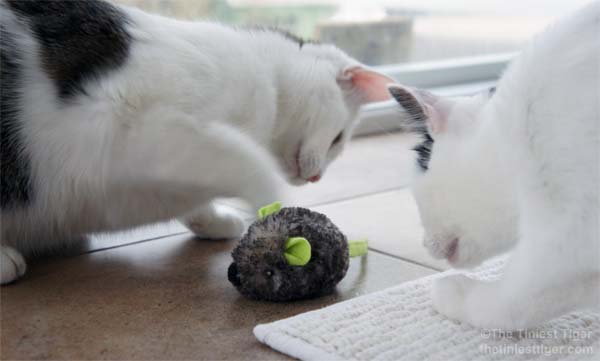 We received the Electrolux Ergorapido PetCare Stick Vacuum to test its ability to clean up cat hair.  As always, The Tiniest Tiger only reviews products that we think will be of interest to you and all opinions are our own.
3 Cats, More Cat Hair
When we adopted Annie and Eddie, we went from a single cat home to a two cat home. Then Mercy came to live with us too and suddenly we  were a three cat home.  I know it stands to reason that three cats will shed more cat hair than one cat, but sometimes it seems ten times the amount.  This is also because I am allergic to cats…yes…yes I am, and it is really important to keep the cat hair cleaned up and the air filters circulating.
Electrolux to the Rescue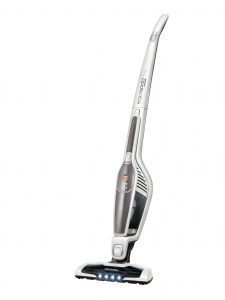 When we were offered to test the Electrolux Ergorapido PetCare Vacuum, I pounced on the chance.  We have all Electrolux appliances and are extremely happy with them. This new cordless vacuum is a 2-in-1 stick vacuum with a removable handheld vacuum, featuring a one-of-a-kind powered petcare upholstery nozzle. This nozzle removes cat hair from upholstery, and the detachable crevice tool and dusting brush can be stored in the charging stand or onboard to help clean those hard-to-reach areas.
The simple press of the button removes the handheld vacuum allowing you to  rid grab those cat hair tumbleweeds as soon as you see them! The high performance lithium battery with extended runtime of up to 30 minutes allows you to hunt down all the cat hair before you place the vacuum back for a fast recharge. I keep the vacuum just outside my office so I can lift-off the handheld vacuum and suck up cat hair and other messes easily every day.
The Ergorapido PetCare also features a patented self-cleaning Brushroll to remove hair tangled and wrapped around the Brushroll with the press of a pedal. The 180 degree easy steer swivel maneuvers effortlessly around bare floors and area rugs, and the dustspotter LED lights illuminate dirt, dust and debris you may not otherwise see when vacuuming dark areas. The vacuum is a perfect fit to sweep up the stairs and light enough to make it super easy to handle.
No cord means freedom to clean anywhere! The cyclonic action system separates and deposits dirt directly in the dust cup resulting in better airflow and overall suction. There is a washable and reusable filter too, requiring less frequent replacement.
All Paws Up!  We Love This Vacuum.
We made a short video to show you how fast this vacuum picks up cat hair.  We can't say enough.  We love this vacuum.
Fur Free Home!  Happy Cats, Happy Humans.
If you would like a more detailed video pounce here: