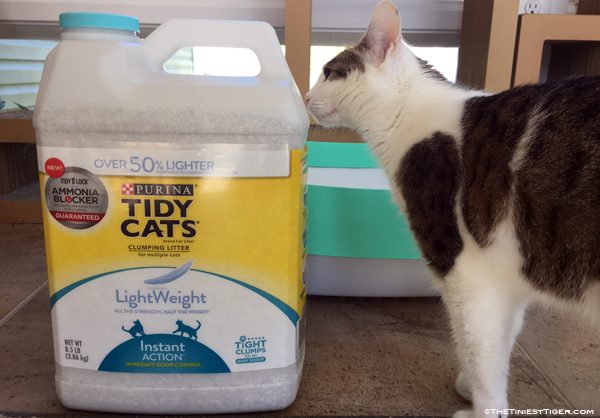 We are a member of the Tidy Cats Insiders and are being compensated to help spread the word about innovations and updates about Tidy Cats. The Tiniest Tiger only writes about topics that we think will also be of interest to you and all opinions are our own.

Annie is a little more fussy than the boys.  She likes to have privacy when  relieving herself.  I understand completely, but the boys don't share the need for alone time in the box.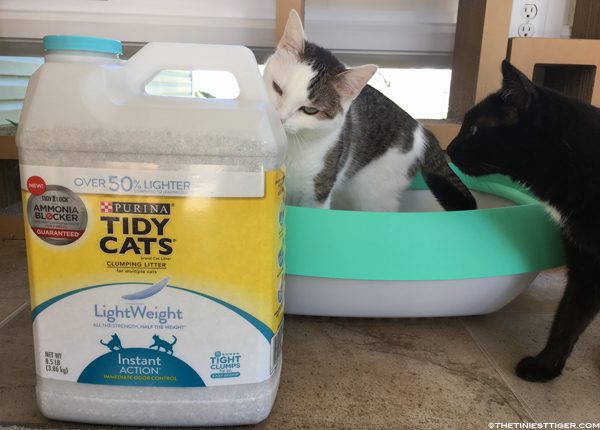 Mercy seems to show up as soon as Annie jumps in one of the boxes.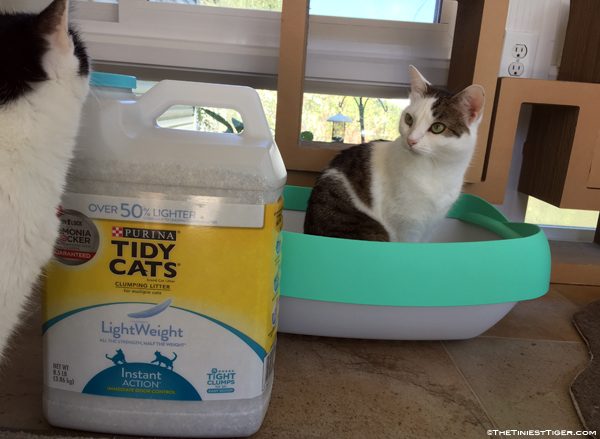 Just when she gets Mercy to move along, Eddie arrives to see what it going on.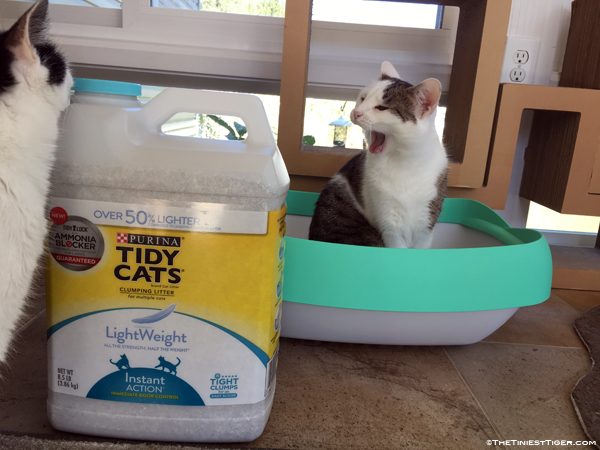 Annie lets Eddie know there is nothing to see here and that he should move along as well.  There are four litter boxes to choose from but it seems the one in use is the most popular.
Three Cats = Three Times Plus One the Pee Yew!
When we went from a one cat to a three cat home, we didn't think about the increase in the pee yew from the litter boxes. Three cats means we have four litter boxes to make sure every cat has a chance to get to the box!  Even though as soon as Annie chooses a box to use, the boys seem to think that box is the best too.
Tidy Cats® New LightWeight Ammonia Blocker
Our house is open format so even when we keep a rigorous scooping schedule, sometimes the pee smell comes wafting through and smacks us right in the nose!  Thank goodness for Tidy Cats® New LightWeight Ammonia Blocker!  We use the Instant Action litter with Ammonia Blocker and I have to say I am impressed. Paul is the designated scooper, due to my asthma, and he said even if he gets off schedule with his scooping, the pee smell is blocked and not able to escape the box!  When used as directed, the Tidy Lock technology is guaranteed to block ammonia odor for two weeks! 
I am not going to tell Paul, but the new formula is 99.9% dust free so I could help out scooping more often.
New Tidy Cats LightWeight with Ammonia Blocker is available at retailers nationwide, We picked up ours at our local grocery store but Tidy Cats has a retailer locater   and you can download a $2 coupon too. Pounce here!
Fall Begins the Busy Season
Last year we received a Tidy Cats Littervention to help us keep our litter box area clean and neat.  This inspired us to kick off a whole house tidy up schedule to clear clutter and organize our lives better. We have been following the Japanese Art of Tidying and it is truly life changing.  We have completed our kitchen and every item now has a home.  We even roll up our dishcloths and towels and store them vertical in the drawers. This simple change saves time and makes our home feel more peaceful.
We love The Container Store and selected several items  to help us store our essentials in an orderly way inside our cupboards. Now we keep everything in its place and everything looks great too. So, I can't tell you how excited I was when Tidy Cats offered to give one of you not only 5 coupons for the new Tidy Cats LightWeight with Ammonia Blocker but a $1000.00 gift card to The Container Store!
The Tidy Cats Contain Yourself $1000 Gift Card Giveaway!
One member of The Tiniest Tiger community will receive 5 coupons for the new Tidy Cats LightWeight with Ammonia Blocker and a $1000.00 The Container Store Gift Card!!  Me-Wow!!!
How to Enter
Enter your information in the contest widget so we know where to ship your prize if you win.
Let us know in the comment section below: Why are you excited to try the new Tidy Cats with Ammonia Blocker? How will you contain yourself if you win the gift card?
This giveaway is open to USA addresses only! Void where prohibited.