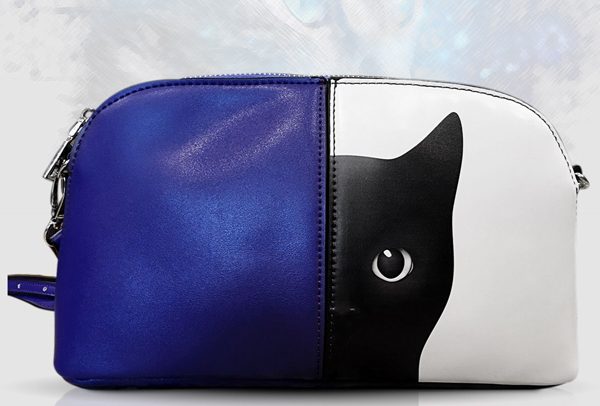 Mercy!
When Mercy first came to live with us it was a bit of an adjustment for him.  He was used to being the only cat in his home and sharing space with Annie and Eddie came as perhaps an unwelcome surprise to our little guy. We did our best to transition our home to make him feel comfortable and overall we were lucky that Mercy is such a good boy.  But..there were times when Mercy wasn't so sure about his new situation.
Sometimes I would see Mercy peering around the corner, checking to see if the coast was clear for him to make a mad dash to his next destination.  He wasn't accustomed to being ambushed by rambunctious kittens.  When I would see Mercy's little face, only half showing around the corner, I couldn't help but laugh just a little, he looked so darn cute.  This was the inspiration for the popular Mercy Handbag line.
The Mercy Black Cat Shoulder Bag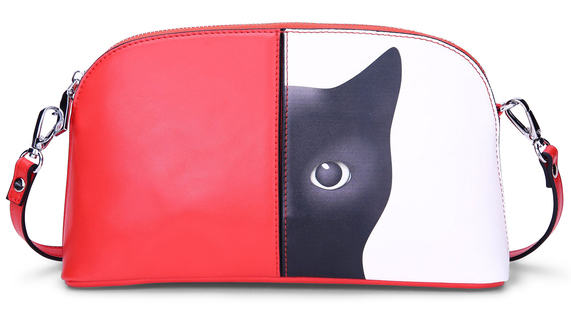 The original red bag is quite popular and the most requested new color was purple!  The new purple shoulder bag has the same great quality as the original red.  The bag features a zippered inside and an outside pocket to keep all of your valuables safely tucked inside.
Dimensions:
10.5 inches (27 cm) in length
5.9 inches (15 cm) high
2.75 inch (7 cm) width
 Features:
Detachable adjustable shoulder strap
Inside zippered compartment
Outside zippered compartment
Silver-tone hardware.
Taupe lining
Imported
Vegan-friendly*

The purple is a gorgeous deep rich purple.  We are still waiting on the pro photos to do the color justice.
The NEW! Purple Mercy Black Cat Shoulder Bag Giveaway
One member of The Tiniest Tiger community will receive our new purple Mercy Black Cat Shoulder Bag from Triple T Studios.
If you can't wait, you can learn more about Triple T Studios here: Fashion With a Passion®
How to Enter
Enter your information in the contest widget so we know where to ship your prize if you win.
Let us know in the comment section below: What do you think of our new purple Mercy Black Cat Shoulder Bag? Any additional color you would like to see?
This giveaway is open to everyone! Void where prohibited.