All Dogs Go To Kevin by Dr. Jessica Vogelsang
All Dogs Go To Kevin is the first book, of what I hope is many, by Dr. Jessica Vogelsang. The book is a heartwarming portrait of a veterinarian, her beloved dogs, and the lessons she learns from each dog along the way.
If you are thinking , but this is a dog book, well it is about dogs, but applies to all of us that share our lives with an animal companion. And for the record, Dr. V also loves cats and her family shares their home with a feline too!
We have a great relationship with our veterinarians and feel fortunate that Annie, Eddie and Mercy are under their care.  All Dogs Go To Kevin will give you a peek inside the life of a veterinarian and might leave you with more respect and understanding for the work they do.
About Dr. Jessica Vogelsang
Dr. Jessica Vogelsang, you might also know her as Dr. V from her award-winning site Pawcurious, is an author, mother, practicing veterinarian, and medical communicator.  She graduated with honors from the UC Davis School of Veterinary Medicine.
Dr. V is a gifted storyteller and she understands how much we love our pets.  She knows that our love of animals is the thread that ties us together and she is able to weave the ways our pets make us better into the stories that help influence positive change.
Dr. V is also a friend of mine and I have to tell you she is wicked smart with a sense of humor to match.  Many times I  laugh so hard I can't even type a response to her quick witted comments, even if I could think of a worthy comeback. She adds just the right amount of levity at just the right time to keep up our spirits when feeling forlorn.
I think you will love Dr. V's book as much as I do.
The All Dogs Go To Kevin Giveaway!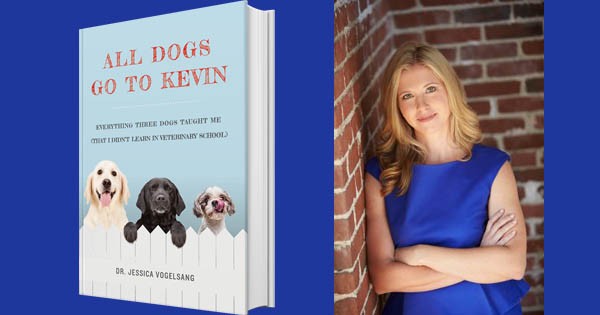 One member of The Tiniest Tiger community will win a copy of All Dogs Go To Kevin by Dr. Jessica Vogelsang.  If you can't wait to read Dr. V's book you can find it on Amazon (affiliate link): All Dogs Go To Kevin.
How to Enter
Enter your information in the contest widget so we know where to ship your prize if you win.
Leave a comment below this post telling us:  What you have learned from your cat or dog.
This giveaway is open to everyone.  Void Where Prohibited.