This post is sponsored by Febreze ® and the BlogPaws Professional Pet Blogger
Network. I am being compensated for helping spread the word about
#Petiquette but The Tiniest Tiger only shares information we feel is relevant
to our readers. Febreze is not responsible for the content of this article.
Are You Noseblind To Pet Odors?
Annie, Eddie and Mercy are members of our family.  We allow the cats to share the sofa with us and to be honest they have their choice of locations throughout the house.  We love spending time with them.  In the evening when I sit down on the sofa to read, Annie joins me almost immediately. It is one of my favorite times of the day.
If you visit us, you will find slipcovers and blankets covering our furniture.  This helps protect the upholstery from collecting cat hair and we are able to toss the blankets and covers into the washer to keep them clean.
We  try to keep our house free and clear of any odors in case we have become noseblind to the smells of our home. Atomik Research Survey Results show that 49% of Americans say they dread visiting homes with pets because of the smell and 48% of Americans say they can make out someones home simply by the odor alone particularly if they have a pet. 24% of Americans feel that pet smells are the most offensive within a home, second only to the scent of garbage and coming in above the scent of smoke!
The research also showed that 60% of respondents that share their home with a pet said they would hate it if they thoughts their guests were thinking their homes smelled of animals.
Febreze Fabric Refresher to the Rescue
In between Saturday's blanket laundry day we use Febreze® Fabric Refesher to help keep our sofa blankets smelling clean and fresh.  Febreze doesn't mask but truly eliminates pet odors and leaves behind a light, fresh scent.  We also use the Febreze Allergen Reducer to help me combat my allergies.
Cats Are Clean and Don't Smell Except For One Thing!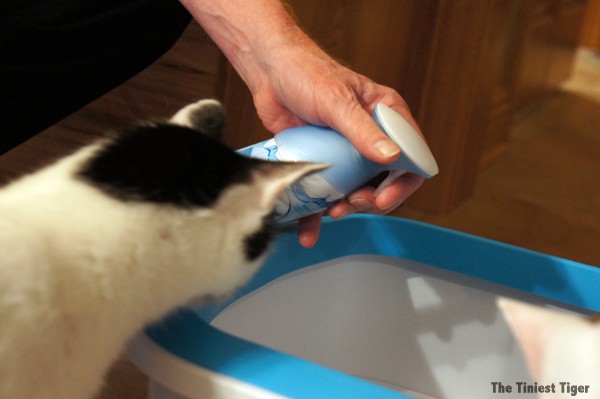 As a cat owner you know that cats don't typically smell.  They are fastidious at keeping themselves clean and rarely do they stink.  BUT…the one thing in the home that does have the odor potential to smack your house guests in the nose is the litterbox.
We all know to scoop often and to empty, scrub and refill the box with fresh litter to reduce unpleasant smells from clouding our home's air.  We also use Febreze Air Effects in the area near the litterbox to knock out odors.  Don't spray into the litterbox.  Air Effects instantly takes care of the odors in your air.  We keep a supply of Air Effects on the ready to zap the litterbox odors from creeping out into the house.


Febreze School of #Petquette
The Febreze School of Petiquette curriculum is loaded with ideas and tips to get and keep your home nose ready for house guests just in time for the beginning of the holiday season.  To learn more about how to eliminate pet odors in your home you can pounce on this link:
About Febreze
To learn more about Febreze visit http://febreze.com
and follow Febreze on:
Twitter:  https://twitter.com/Febreze_Fresh
Facebook: https://facebook.com/febreze
YouTube: https://www.youtube.com/user/febreze