This past week-end was one of my favorite events of the year! Blogpaws was created  for the online pet community. They focus on bringing together pet bloggers for education, networking and creating change for animals in need.  This year's conference was held in Tysons Corner, Virginia. And it was a fantastic event even though Hurricane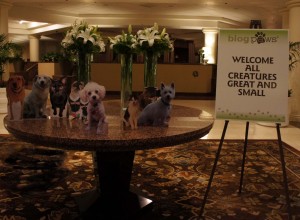 Irene tried to put a damper on the festivities.
I sent  my stunt double Flat Gracey with my mom to cover the event.   Flat Gracey was provided to me courtesy of Flat Tyler!   Fluffy Tyler's mom PetCareBev is the genius behind My Flat Pet.  Flat Gracey travels much easier and without anxiety.  This provides me a way to attend events from the comfort of my habitat.
Here I am with some of my Flat Pet Friends. Flat Tyler is the handsome Bichon to my left.  Preston is the handsome Westie to my right.  Fluffy Preston, from Preston Speaks was also in attendance at blogpaws.
The blogpaws conference is super interesting, educational and fun all at the same time.  That is not an easy thing to be.  The days are packed full of educational sessions, networking time, keynote speakers and more. And with pet lovers, there is plenty of fun, laughter and friendship.  Here are a few my highlights: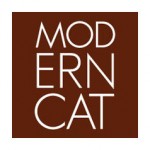 Moderncat won Best Designed Blog in the Dogtime's Pet Blog Awards, known as "The Petties".  I don't have a photo of the wonderful and talented Kate Benjamin, because my mom was so excited to meet Kate that she forgot to take her photo.  What I can tell you is that Kate is as beautiful and stylish as her award winning site Moderncat.
Now one of the reasons my mom forgot to take some of the photos is because she was too
busy squealing when our Friend Angie Holland Bailey won Funniest Blog for Catladyland! Even looking at Angie's photo makes you smile, doesn't it?  She is just terrific.
Carol Bryant from Fido Friendly Magazine won for Best Dog Blog. Carol is our Friend and Dexter's mom but again my mom did not capture a photo of them at the event.  Something shiny must have gone by to distract her.
Here is a photo of our good Friend Carol and Dexter.
We were super happy to meet up with our Friends from DogTipper and CatTipper
too. Paris and John are a husband-wife team of professional writers.  They are also exceptionally nice and  knowledgable writers.  DogTipper was a finalist in the Best Social Integration Blog.
Then for the first time, we met Tamar from I Have Cat! We have been fans of I Have Cat for quite a while but had not met up with Tamar before this year's event. I Have Cat was also a finalist in the Best Social Integration category. Tamar is super nice and we were happy to hear she is safe with Petie back in NYC riding out Hurricane Irene.
We also met Ingrid from The Conscious Cat for the first time.  The Conscious Cat won the Best Overall Pet Blog category.  Ingrid is a talented writer and she is also
super nice. Look at her smiling at me.  You make me smile too Ingrid.
Our Friend Michele from Pet News and Views was in attendance at BlogPaws too. She and my mom shared a room on Thursday night and they were up chatting and laughing until the wee hours of the morning.  They were not so peppy the next morning but my mom said she can sleep anytime.  You can't always get to spend time with a wonderful person like Michele.  Pet News and Views was a finalist in the Best Overall Pet Blog.  This blog is near and dear to me because Michele also writes about our big cat cousins and all creatures big and small.
We were super happy to see Janea Kelley from Paws and Effect again this year at blogpaws.  Paws and Effect was a finalist in the Best Designed Blog category.  Janea is very knowledgable about all things feline and she is also a pet communicator.   I hope Dahlia, Thomas and Siouxsie don't get too upset that their mama is paying attention to me.
My feline friend Sparkle, the Designer Cat won the Best Blog Post.  Sparkle and  Janiss watched the Petties from the comfort of their home.  We sure missed being able to visit with Janiss but I called my mom home early too so I understand.
Super Congratulations to Stephanie from Catsparella for winning the Best Social
Integration category. This is again, my mom's fault for not capturing a photo of Stephanie at the event.  We were thrilled to meet Stephanie.
We did not get to meet Robin from Covered in Cat Hair. But we want to say Congratulations to her for winning the Best Cat Blog category!  I called my mom home a day early because I was spooked about Hurricane Irene and I  think that prevented us from meeting Robin.
As you can see,  this year's Petties were swept by the Cats!  Congratulations to all the winners and finalists.  It was fabulous to be in the company of so many feline friendly supporters.