Nominations are Open for the 2013 BlogPaws Awards!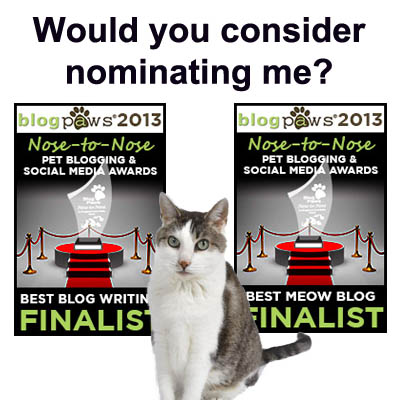 Nominations are being accepted for the 2013 BlogPaws Awards.  I would be honored if you would consider nominating our The Tiniest Tiger's Conservation Cub Club for Best Blog Writing and for Best Meow Blog.
Best Blog Writing
Best Humor Blog
Best Meow Blog
Best Cause Blog
Best Facebook Design
All entries  will be  judged on their expertise, creativity, and performance by a panel of industry professionals. Finalists will be announced on March 15, and winners will be announced at the BlogPaws 2013 conference
Nominations are open through Friday, March 8.
Here is the information you will need:
Blog Homepage: https://conservationcubclub.com
Contact Name for the Blog Owner: Joanne McGonagle
Contact Email for the Blog Owner: joanne@thetiniesttiger.com
Facebook page of nominee:  www.facebook.com/thetiniesttiger
Twitter account of nominee: www.twitter.com/thetiniesttiger
You will be asked to write a a couple of sentences about why you are nominating us on the form.
Thank you so much for your consideration.