Cats Are Curious About Human Food Too!
When you share your home with a cat, one thing we can all agree on is that they are curious and quick.  One second they are no where to be seen and the next second they are  underfoot or  right next to you checking out what you are doing.  We find this to be true when we are in the kitchen preparing meals.  The cats might be sound asleep basking in the sun, and the moment they hear the refrigerator, or in Annie's case the water running in the kitchen sink, all three cats are ready and willing to help.
We use garlic and onion almost every day and take extra precautions to make sure they don't get their paws on any.  We must be mindful not to let any small pieces slip onto the floor or counter.  Even if you think your cat might not eat a piece of onion or garlic, when you mix it in with a source of protein, your cat might find it irresistible.
Even though we try to keep our cats on a regimented diet, there are times when we like to share a special treat with them too.   But it is important to know what you can, and more importantly, what you should never feed your cats.  This easy to follow infographic serves as a quick reminder.
What's Okay To Feed Your Cat?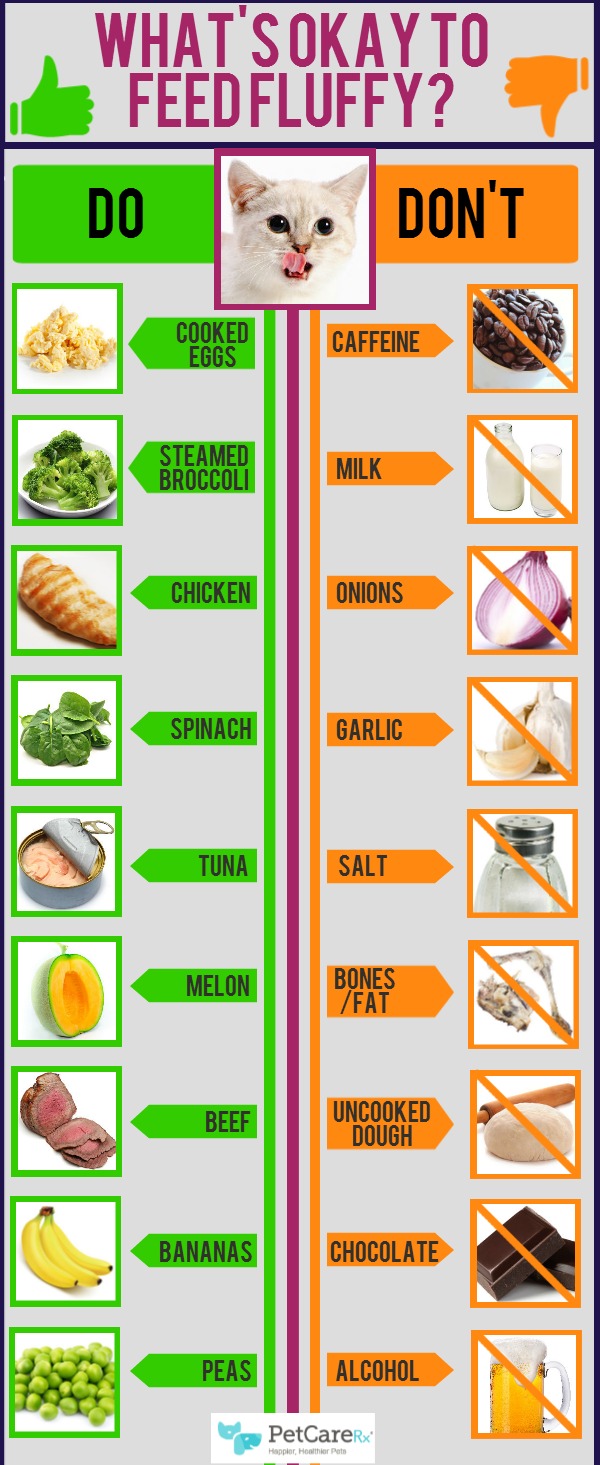 This infographic was created by PetCareRx. Providing quality pet meds and supplies for all your pet needs.
Cats and Pits Don't Mix
Your cat cannot taste the sweetness in chocolate. In our post  Cat's Menu Leaves No Room for Dessert   there is more detail on why your cat cannot taste sweetness.  Because of this, they are not as likely to eat a large amount of chocolate as a dog might, but it is still a good idea to keep chocolate away from your cats.
Apricot and cherry pits are also poisonous to cats.  The pit contains cyanide and your cat might try to swallow it so just to be on the safe side, keep all pitted fruit far away from your cats' paws.
Most cats don't like the smell of citrus, but curious Annie comes to check out my orange every morning.  Hope springs eternal for her, as she carefully smells the peeled orange in my hand. Then she wriggles up her nose and looks at me in wonder, like are you going to eat that?  The orange won't cause her any harm, she just doesn't like the smell.  Just like me and bacon.
Thank you for caring for all cats big and small.