Cat Parents! Restore the Air You Breathe with CritterZone Air Purifier
Cat Parents, once in nine lives a product comes along that just blows your whiskers back and that product is the CritterZone Air Purifier. This compact, filterless, chemical free air purifier is a must have for cat parents.  We met William Converse, the president and inventor of the CritterZone Air Purifier recently at Global Pet Expo in Orlando.  William has mad skills when it come to air purification from his 30 years in the industry and he deserves top predator status for the Critterzone.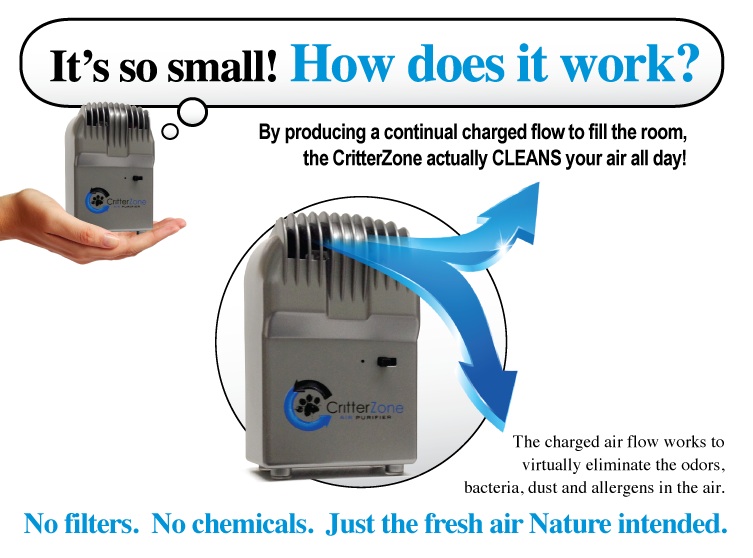 Small but Powerful
We placed our CritterZone Air Purifier on the shelf in the laundry room, which also happens to be where one of my litter pans is located. You might not think that I would be a super stinker but I have my moments. And lately, my parents noticed that when they came into the house, it didn't smell badly, but being closed up for the winter the air lacked that fresh and invigorating quality that everyone longs for when they breathe.
Now, when we come into the house, the air is fresh and clean and  there is no trace of a litter pan smell.  My parents can't get over it, they really can't.  They praise the CritterZone every day and seem to be fascinated by its power. They are already planning to get one for the man cave and my mom wants one for her car too.  One thing we know for sure; We are never going to unplug or stop using this amazing little air purifier.
How Does It Work? Natural Air Restoration Technology
Air is filled with various contaminants: Dust, Dander, Bacteria, Dry Protein from Feces, Mold, Germs, Viruses and More. It also contains the natural ingredients of the fresh air that Nature intended: Oxygen, Nitrogen, Hydrogen, Water Vapor, etc.  CritterZone restores the air we breathe to it's natural conditions with two distinctly different, but related, continual processes: Bi-Polar Ionization & Plasma Conversion.
Bi-Polar Ionization is a continual process whereby massive streams of positive and negative ions are released into the environment. These ions create charges on the solid matter in the air, which are then attracted to the particles of the opposite charge until
they grow heavy enough to settle out of the air. As the air restores around the CritterZone, the process extends deeper into the environmental space, quickly cleaning a large area from a small source.
The Plasma Conversion Process uses a high-energy plasma flow to convert the moisture in the air into natural cleaning agents. The moisture is converted to additional hydrogen and oxygen components and then proceed to use these to create oxidation and reduction components in the form of hyper-oxides and hydroxides (HOH and OH)– the natural cleaners. These components react to pollutants, virtually destroying odors, mold, bacteria, germs, viruses, dust, dander, etc.  These same components combine with the moisture in the air to provide a surface of protection to actually PREVENT germ and mold growth.
We can't say enough positive things about the CritterZone Air Purifier.  It must be experienced to appreciate how great it truly is at cleaning the air.