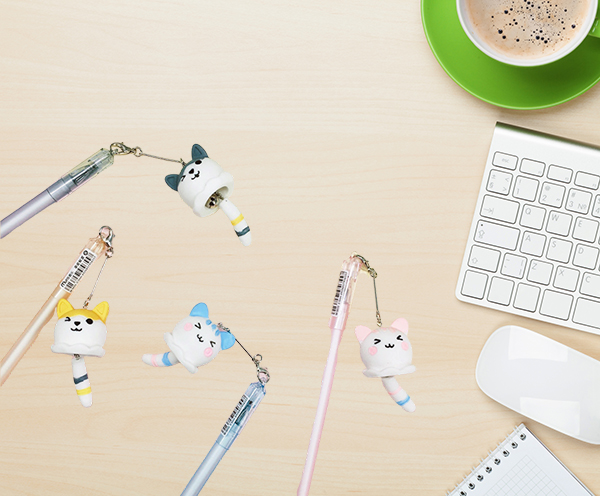 New Cute Cat Pens
These cat pens made us laugh out loud. They are admittedly a bit crazy cat design and not our typical feline finesse designs. But it is winter and super cold in our area the past few days so why not add a little happy to our days. How could writing with cute little cats complete with tinkling bells not lighten up even the most tedious tasks?
The cat's tail swings and the tiny little silver bell softly tinkles. If you don't want to keep the cat on your pen, no problem, simply remove with the handy lobster claw clasp and attach to your bag, backpack or any other place you choose. Perhaps even use as a zipper pull on your favorite hoodie.
The pens come in for colors; Yellow, Pink, Blue and Gray. If you can't choose just one, no worries, pick the 4-pack with one of each color. The pens measure approximately 6.5″ in length. The cute cat is approximately 2″. The lobster claw clasp attaches the cat to the pen. The color ink on the pens we tested is black. We cannot guarantee ink color will be black or blue. Annie, Eddie and Mercy haven't had time to check every pen.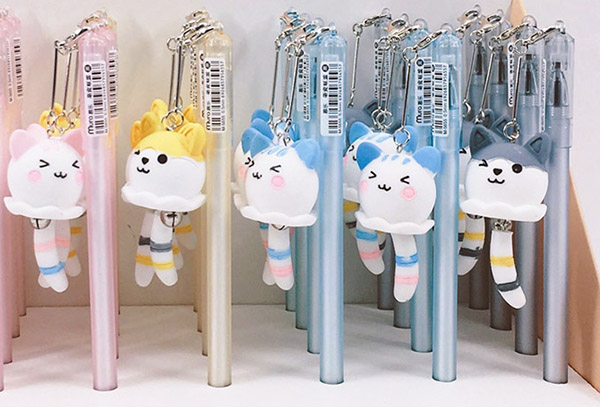 The Cat Pen Giveaway
One member of The Tiniest Tiger community will receive a 4-Pack of the Cat Pens; One pink, one yellow, one blue and one gray.
How To Enter
Enter your information in the contest widget so we know where to ship your package. If you are reading this in your email you might need to click through to enter the giveaway. Pounce here!
Let us know in the comment section below this post: Will you write with these pens? If you remove from the pen, where will you attach the cute cat?