I didn't think my sunroom could get any better, but then my parents set up the Cat Power Tower (CPT). Lazy Leopard and I have had so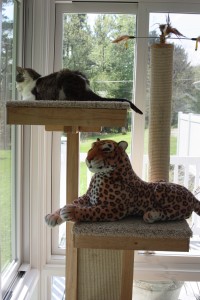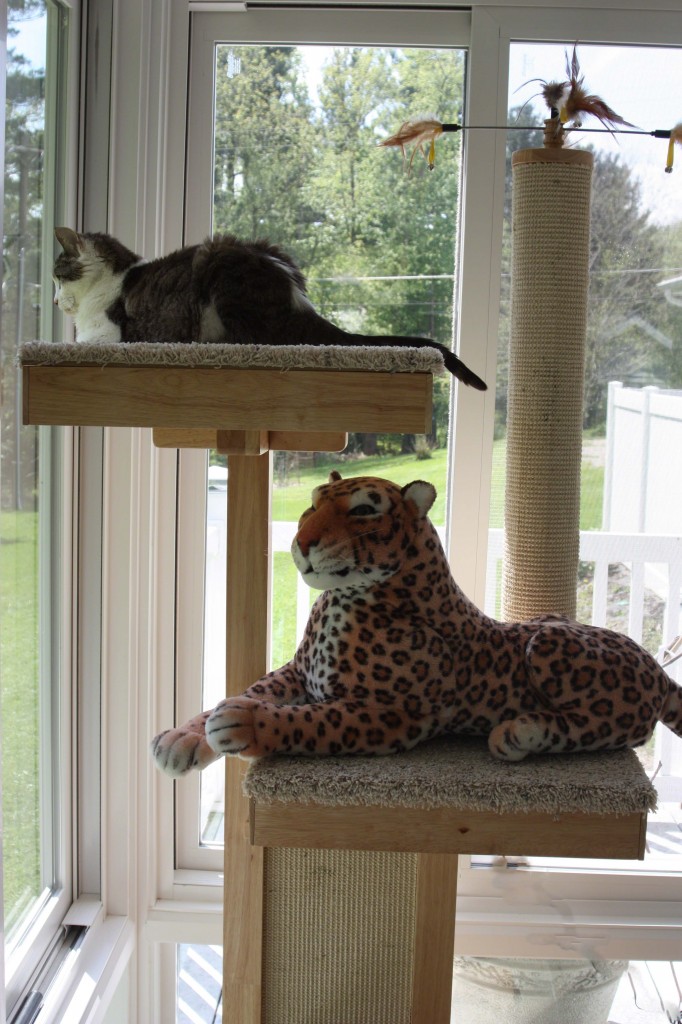 much fun on the CPT that I have almost forgotten  about chomping the Fig Tree and the Office Cactus in the three months I have now been enjoying my Cat Power Tower.
My favorite is the bird carousal.  Those feathers tease me and I can really let them have it without hurting myself or the feathers.  But there are many other reasons to enjoy the CPT as  discussed in my interview with Pat, the  CEC (Chief Executive Cat) at Cat Power Tower.
My parents have  noticed that I am more playful these days.  Exercise is good for everyone and the CPT added more activity to my day. My parents also  said the CPT is helping to keep me out of mischief.
Many of you expressed an interest in the Cat Power Tower but were worried that you might not have enough space for the 3 tier tower or that it might not be in your budget. So, Pat, being a cat, therefore inherently super smart, created three new models of the CPT. Perhaps one of these new models will fit your feline needs.
The original Cat Power Tower included a Hunting Hole platform, a Power Platform with a  revolving feather carousal that sits on top of a sisal scratching post, and the Lounging Platform.  The new models offer just as much fun and exercise but in smaller configurations.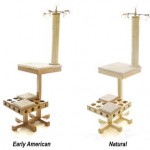 The Little Cat Power Tower offers two platforms, each designed to perform a specific functions: lounging, playing and hunting. There is enough space to accommodate three adult cats and sitting space for four. The Play Platform can be used as a lounging surface as well as for play. The Hunting Hole Platform is super fun for hunting toys and can also seat two cats. The Little Cat Power Tower also included the Power Post and Bird Carousal. This tower can be upgraded to the 3 tier CPT with an expansion kit as your cat's need and your budget allows.
The Hunt 'n Lounge Tower offers two platforms, one generous size Lounging Platform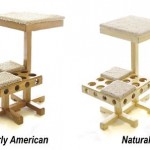 and a Hunting Hole Platform.  It provides enough space for up to three adult cats and seating for four.  The Hunting Hole Platform provides hunting activity as well as napping space or seating for two. The Lounging Platform's top is removable, providing storage space for toys, treats and grooming tools. The 2-tier Hunt n' Lounge Tower can be upgraded to the 3 tier Hunt 'n Scratch Tower with an expansion kit as your cat's needs and your budget permits.
The Cat Power Pad features the Play Platform, Power Post & Feather Carousel which is super fun and will keep your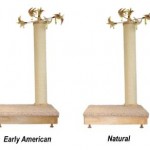 cat entertained for hours of play, scratching and exercise.  It can be switched to "always on", "always off" and "automatic". In the "automatic" position, the carousal turns on when your cat jumps on the pad, and turns off when your cat jumps off.
All models are made from eco-friendly plantation rubberwood, sustainably harvested sisal , and 100% post-consumer Mohawk EverStrand carpet which is made from recycled bottles.  Super Hurrah!
Please visit Cat Power Tower if you would like  more information and details.
We were given a Cat Power Tower by Wiser Pet Products to try out in our habitat. All opinions are our own from our personal experience with the Cat Power Tower.  We were not paid for this post.