Gracey Loved Her Cat Power Tower
Gracey loved her Cat Power Tower.  From the time Andy and Pat from Cat Power Tower sent her the tower and Paul and I assembled it for her, it was her all time favorite place to be.  She loved watching birds and squirrels from the tower, taking naps in the sun and searching for treats on the hunting platform.   She also loved the scratching post with the carousel.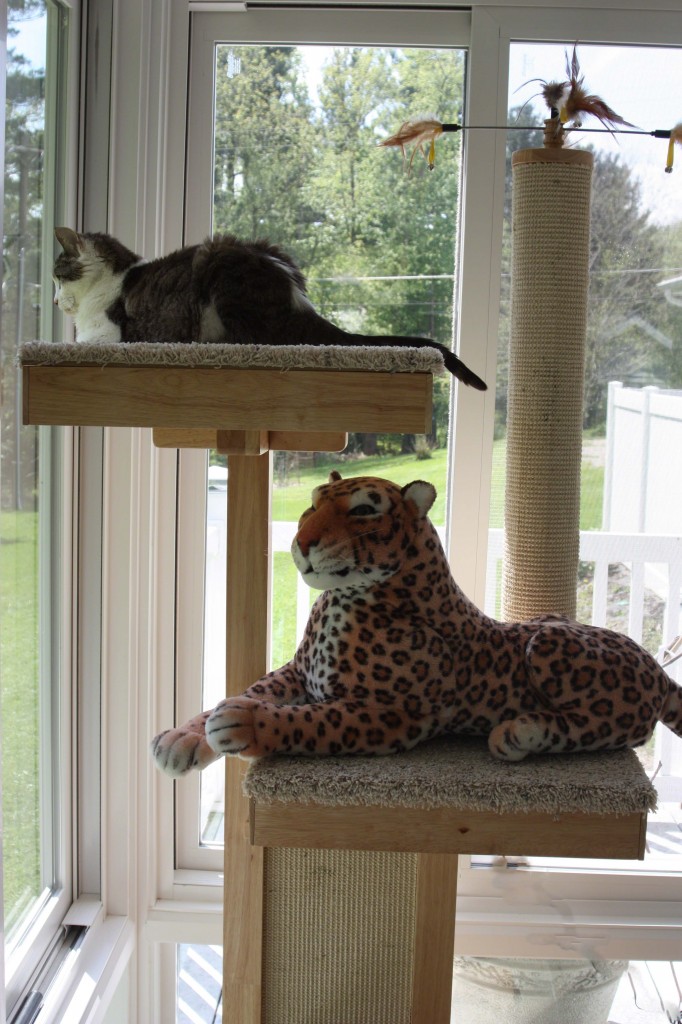 Gracey and Lazy Leopard enjoyed many days together on the Cat Power Tower too.  Here they are sharing the tower  and sharing a few laughs and stories too I think.
Annie and Eddie Continue the Tradition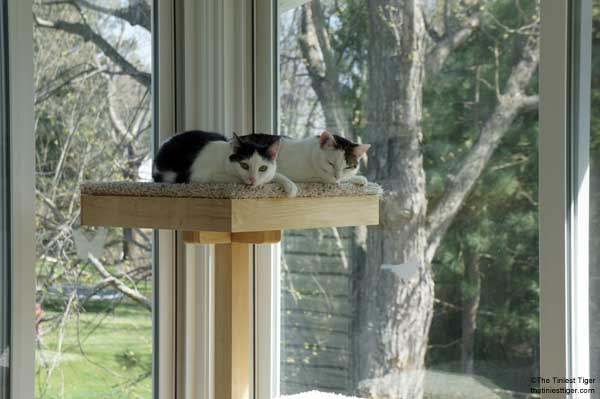 Annie and Eddie love the Cat Power Tower too and sometimes even get into little tussles about who gets the top of the tower. Most of the time they end up sharing the top platform though like in the photo above.
The Cat Power Tower Scratcher Giveaway!
Now for the first time, we are thrilled to offer to one friend of The Tiniest Tiger their very own new Cat Power Tower Scratcher! This is super exciting because we know how much your cats are going to love playing with this phenomenal toy!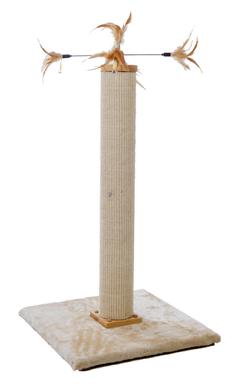 The new Cat Power Tower Scratcher features a 32″ high sisal covered scratching post and feather teaser carousel that will interact with your cat whenever your cat chooses to. A micro motion sensor will turn the carousel on when your cat approaches the scratcher. The carousel will continue to keep your cat entertained and active as for as long as your cat wants to play. When your cat has had enough activity, the carousel will turn off automatically after about 15 seconds.
Full 32″ high allowing cats to scratch, stretch & climb.
Covered in a durable sisal fabric
Carousel automatically turns on and off.
Durable spring rods, guaranteed not to break
Replacement feather teasers are available.
AC/DC power supply is included.
Extra large 19″ x 19″ base for superior stability.
Assembled dimensions: 36″H x 19″W x 19″D
100% satisfaction guarantee
Plus One Additional Carousel Accessory of Choice
And that is not all! Andy and Pat from Cat Power Tower are also letting the winner of the Cat Power Tower Scratcher choose an additional accessory.  You can choose from an extra feather carousel, a furry mice carousel or a scrunch ball carousel.  Eddie would be choosing the furry  mice and Annie would not be able to decide between the feather or the scrunch ball!   Which one do you think your cats will like the best?
The Cat Power Tower Scratcher Video
While you think about which carousel accessory you will choose, here is a short video showing you the Cat Power Tower Scratcher in action.
Friends of The Tiniest Tiger Special Discount Code
Friends of The Tiniest Tiger will receive a $20 discount when you order a Cat Power Tower Scratcher for your cat.
Pounce here  Cat Power Tower Scratcher
Click on the Add To Cart button and enter TTT in the space for a coupon code.

To Enter The Cat Power Tower Scratcher Giveaway:
Enter your information in the contest widget so we know where to ship your prize if you win. Tell us in a comment below whether you think your cat would like the feather, furry mice or scrunch ball carousel best.
The comment below this post is important. If your name is drawn and you didn't leave a comment, another winner will be chosen.
This giveaway is open to residents of the USA only due to shipping costs. But you may enter and donate your prize to a shelter or friend that resided in the USA.