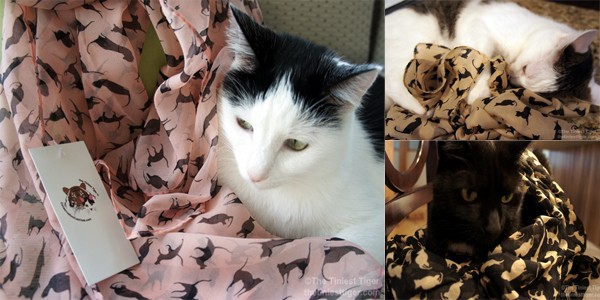 Cat Print Scarf
This beautiful cat print scarf is sure to please any cat lover.  The subtle design does not scream "crazy cat lady" but we like to say this scarf has feline finesse!  The cat print scarf is one of our most popular items so we thought we would do another giveaway in case you missed it the first time.
The cat scarf is available in black, beige or light pink and is made of chiffon for a soft and light weight (2 ounces) feel. The scarf measures a generous 70 x 160 cm so you can wear the scarf in many different ways.
Three Cats, Three Colors of Cat Print Scarf
You can't go wrong with the black cat print scarf! This scarf goes with everything and of course Mercy approves!
Annie  is modeling the beige cat print scarf.  This is anything but bland. This scarf's color matches the lighter caramel highlights in Annie's fur.
Eddie  is such a sweet boy and here he is posing with the light pink cat print scarf.  This soft pink color matches Eddie's cute pink nose.
Too hard to decide?  No worries, enter the giveaway for a chance to win one of each color!
The Cat Print Scarf Giveaway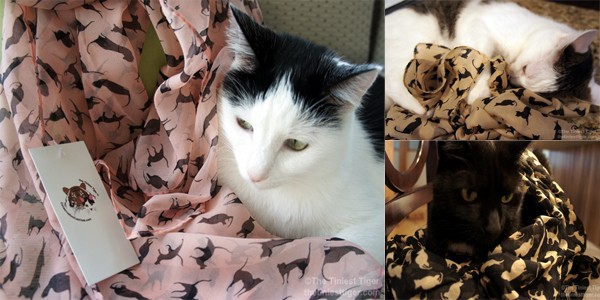 One member of The Tiniest Tiger Community will win all three beautiful cat print scarves, one of all three colors; black, beige and light pink!  If you can't wait, you can learn more here: Cat Print Scarf
This contest is open to everyone, everywhere!
How to Enter
Enter your information in the contest widget so we know where to ship your prize if you win.
Leave a comment below this post telling us:  Which color cat print scarf is your favorite?
This giveaway is open to everyone!  Void Where Prohibited
The Rules:
Void where prohibited by law.