The Cat Print Scarf for Spring
It is still winter here and in fact we are supposed to get up to 12 inches of snow over the weekend. But today we saw a robin in the backyard so Spring is coming, we just can't see it yet. When it does arrive, you will want to pack away your wool and knit scarves that have kept you warm all winter. So we thought you might like to add this cat print scarf to your spring wardrobe. The print is very subtle so you can look fashionable and share your love of felines.
I felt badly about not modeling after I saw the frog wearing the cat print scarf. So I decided to cooperate and pose for a few photos.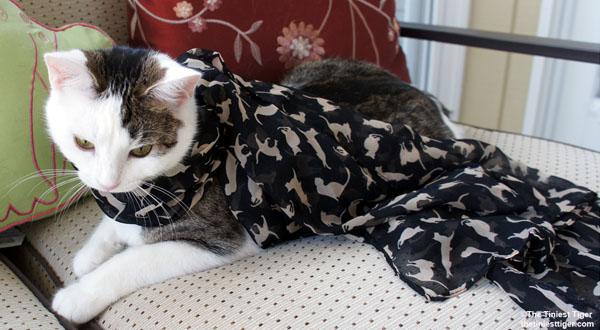 Well this isn't so bad. In fact, this scarf is very lightweight and I think I look good.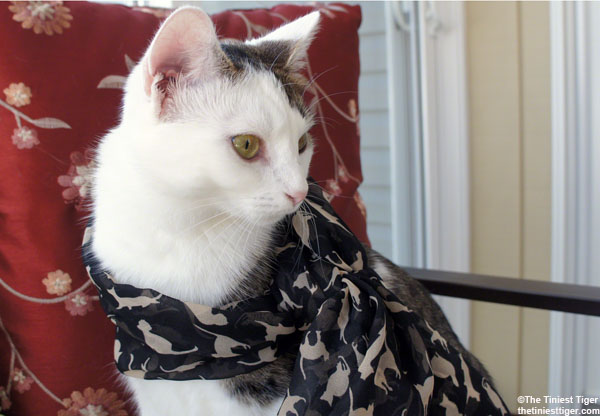 Yes. I can feel some positive energy starting to kick in now.
I am now thinking that this scarf can double as my super hero cape. I just need to decide what my super power will be. Can you help me decide? While you are thinking about this, you might want to go ahead and enter to win one of these pretty cat print scarves. You never know, it might bring out your own super powers when you wear this scarf out and about this Spring.
The Cat Print Scarf Giveaway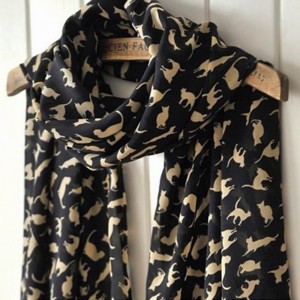 One member of The Tiniest Tiger Community will win a beautiful cat print scarf. This contest is open to everyone, everywhere!
To Enter:
Enter your information in the contest widget and come back and leave a comment below telling us where you would like to wear your cat print scarf.
The Rules:
This contest will end on March 16 , 2014. Please one comment per person. I will enter all names in to Randomizer.com. The winner will be notified by email or through facebook depending on the contact information you provide. If you connect through facebook, check your Other messages not just your main messages. Make sure you are watching for an email from us. The subject line will say Cat Print Scarf winner! Void where prohibited by law.