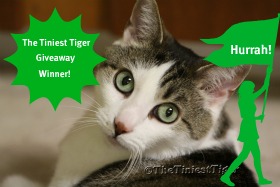 Congratulations and Super Hurrah to Tammy!
The Winner of The Tiniest Tiger's Cat Stocking Full of Stuff

I am a super lucky cat to live in a loving habitat with plenty of food, fresh water, warm places to sleep, and toys. Today while thinking in the office,  Bad Kitty and I decided that we would like to share with you some of the great products that we have received over this past year. So I asked my mom to help me pick out what to stuff in the stocking for a  fun cat  giveaway.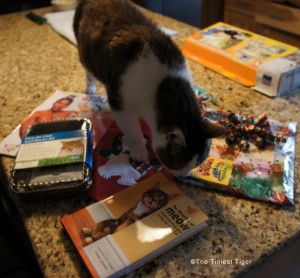 As you can see, I was able to gather up some very interesting items. I found a copy of The Meaning of Meow by Diana Jessie,  a super delicious Oats for Cats Seed Starter Kit,  a Catster.com scoop,  a kitty boinks,  a super cute tiger catnip toy,  an unusual calendar from Found Animals, a Hartz Twist n' Flutter, and then….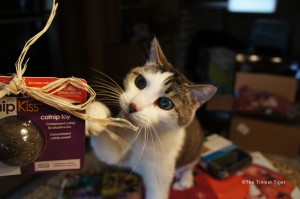 I am a bit ashamed to tell you that I tried to take back a couple of the items. One is the Smarty Kat Catnip Kiss. ~sigh!~ I wanted to keep that toy.  I also wanted to keep the Kitty Hoots Cat Toy from Fat Cat.  But my mom reminded me that I have the Fat Cat Cocktail Weenie and Teeni Sardini.  So I let go of the two toys and stuffed them in the stocking too.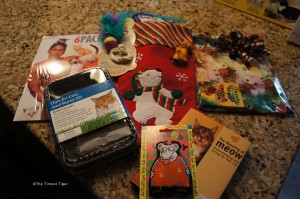 I threw in a copy of The Tiniest Tiger paperback and a The Tiniest Tiger coloring book with a pack of Crayola crayons too.   I am not in this picture because I get too tempted by the ribbon on the package and ribbons are not good for cats!  Oh and  I forgot to mention the super cute Polar Bear Stocking.
Here is all you need to do:
Leave a comment below this post here on our The Tiniest Tiger's Conservation Cub Club telling me which item you think your cat or cats will like best.
The Rules:
This contest is now closed. Thank you for participating.
This contest closes on December 20, at 1 pm Eastern. I will enter all names in to Randomizer.com. The winner will be notified by email, so make sure you leave a full name and email address for me. Due to the weight and size of the package this contest is open to US habitats only.  I am super sorry.  Void where prohibited by law.
Don't forget to enter  to win a free bag of Science Diet® Ideal Balance™ Pounce Here!