Cat Appreciate Their Charmed Life
Some might say that Annie and Eddie are living a charmed life. They know they were super lucky to be adopted into a loving forever home while so very many of their cousins wait every day hoping for a family and a home. They are also fortunate to be protected from most dangers, and they don't have to worry about getting enough food to eat. They have many soft and warm places to sleep, toys to play with and a room with a view of a backyard full of activity. They are lucky and we are lucky to have found them too.
Annie and Eddie's First Adoption Day Anniversary
This month is the one year anniversary of Annie and Eddie's adoption from Grayson County Humane Society. In honor of their first anniversary we wanted to create something special to share with you. We thank you so much for being with us on our road to recovery from heartache and for sharing the first year of the kittens' lives with us.
Curious Eddie and Sweet Annie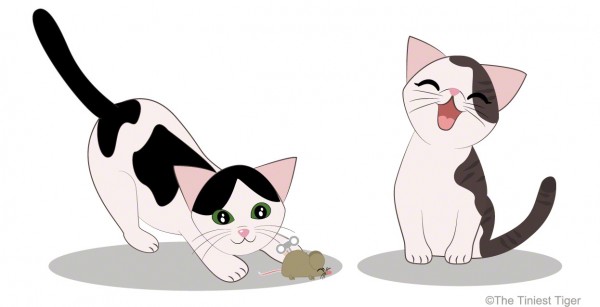 We created these cute images of Eddie and Annie to celebrate their first birthday. The artist really captured their personalities. Eddie is super curious and Annie is really sweet. Donna at Grayson County Humane Society was right when she said, "Nobody is sweeter than Annie". Annie is outgoing and yes, a bit wild, but she is very friendly and loving. Eddie is also a sweet boy, more reserved and curious, and reluctantly accepts hugs and kisses from us.
When we thought about how lucky we are and that the kittens might be living a charmed life, the words lucky and charmed gave me the idea to create a charm bracelet with our lucky charms, Eddie and Anne.
Sweet Annie Charm Bracelet
Curious Eddie Charm Bracelet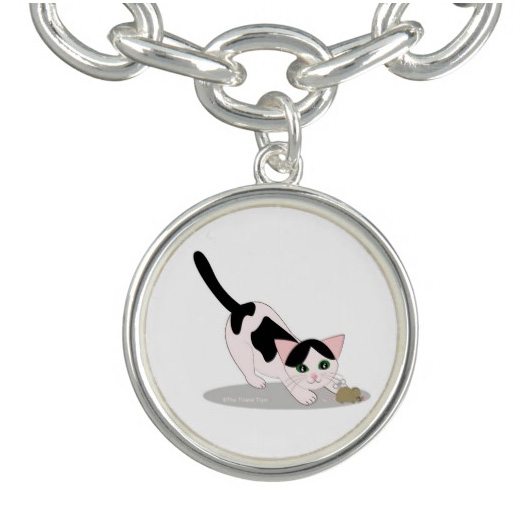 This silver plated charm bracelet was created with love and comes with a cute kitten lucky charm. Gift wrapped in a special black felt bag, this charm bracelet is finished with a UV resistant and waterproof coating to protect the images for years to come. You can add extra charms for a bracelet that holds photos of all of your loved ones or for an extra special bracelet that tells a story.
Dimensions: .875″L x .875″W x.132″H, 8" chain (adjustable between 7″-8″).
Sterling Silver Plate.
Made in the USA.
UV Resistant and waterproof.
If you would like to purchase one of the Kitten Charm Bracelets, they are currently available here:
The Sweet Annie and Curious Eddie Charm Bracelet Giveaway
Two lucky friends of The Tiniest Tiger will win either the Sweet Annie or the Curious Eddie Charm Bracelet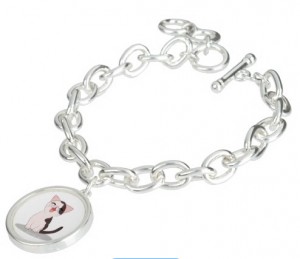 To Enter:
Tell us in a comment below if you have a lucky charm and if you prefer the Sweet Annie or Curious Eddie Charm Bracelet.
Enter your information in the contest widget so we know where to ship your prize if you win.
The comment below this post is important. If your name is drawn and you didn't leave a comment, another winner will be chosen.
The Rules:
This contest is open to all friends of The Tiniest Tiger in all countries. This contest will end on July 1, 2014. Please one comment per person. I will enter all names in to Randomizer.com. The winner will be notified by email. Make sure you are watching for an email from us. The subject line will say Kitten Charm Bracelet Winner! Void where prohibited by law.