Our Cats Light Up Our Lives
Now that the holidays are over and the decorations have been packed away, winter takes over and along with the bright days with snow glistening, there are the dark sunless cold days where the grey looms until nightfall.  We had several of these gloomy winter days in a row and generally I am able to work through them without feeling blue.  But for the last couple of days, when I felt that melancholy tug at my heart, I had three little cats to help pick up my spirits.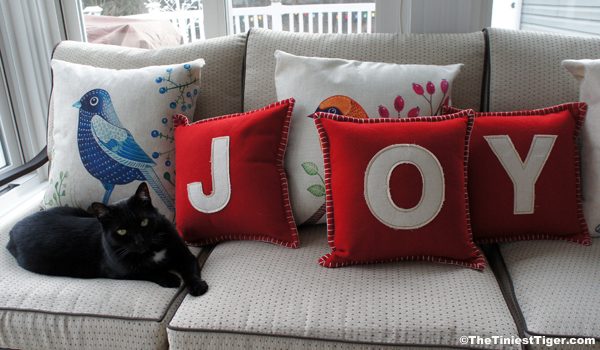 We left the JOY pillows out in the sunroom, and how could you not smile when you see little Mercy?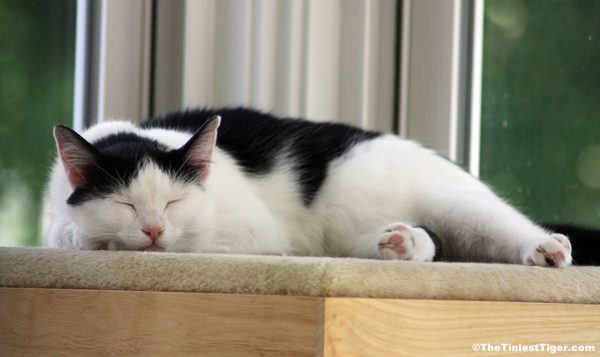 Or when I see Eddie sleeping in his favorite place.
I found this post I had written almost  18 months ago and it holds true today.  Annie is my moon.  This is what I wrote.
Cats Comfort Us
For many of us, our cats are our moon.  Annie is my moon.  She was there for me with her bright eyes shining during moments of overwhelming sadness after losing Gracey. When I am blue, I feel a little cold nose and Annie's soft fur against my neck as she nestles in under my chin. When she gets settled I wrap my left arm around her and she purrs me back to comfort.
Gracey was there for me when I lost my dad.  I don't have the words to fully explain the comfort that our cats bring to us, but if you are reading this, I think you know exactly what I mean.
Most days I go along and smile when I see reminders of loved ones around our home.  When there is sadness, Annie seems to know and  comes to comfort me.  Annie is my moon.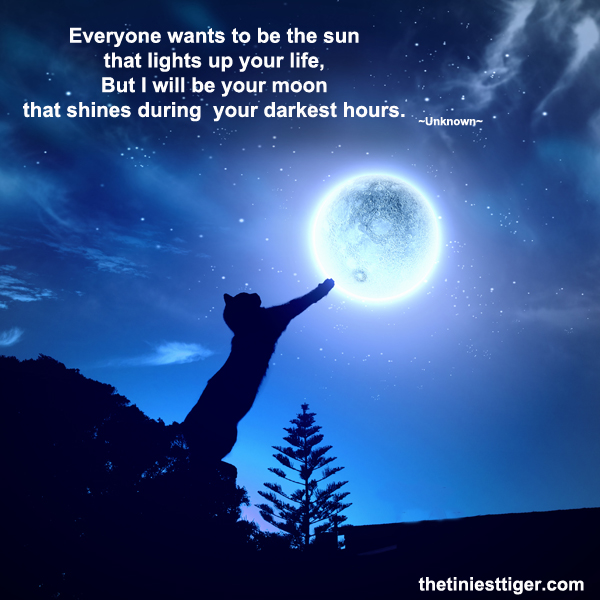 I thought your cat might be your moon too and now would be a good time to repeat the Cat Moon Necklace giveaway.
The Cat Moon Necklace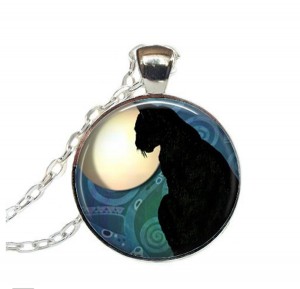 The Cat Moon Necklace pays tribute to your cat companion who is always there for you.  The necklace is made in the cabochon style from a zinc alloy and is lead and nickel free. The cabochon pendant measures 1 inch (25 mm) in diameter, not too big and not too small.
The necklace comes with the 20 inch  (50 cm) chain with a 2 inch (5 cm) extender and a lobster clasp and weighs about 10 g.
The Cat Moon Necklace comes in a pretty organza draw string bag and is gift boxed.  Included is a small card with the image above of a cat reaching for the moon and quote by an unknown author.
The Cat Moon Necklace Giveaway
One member of The Tiniest Tiger community will receive the Cat Moon Necklace.  If you can't wait, you can learn more about the necklace here Triple T Studios.
How to Enter
Enter your information in the contest widget so we know where to ship your prize if you win.
Leave a comment below this post telling us:  How has your cat helped you through your darkest hour or a rough time?
This giveaway is open to everyone!  Void Where Prohibited.