Celebrate National Small Business Week
National Small Business Week (April 30- May 6) recognizes the contributions of America's entrepreneurs and the impact they have on our economy and lives.  "Shop Cats of New York" published by HarperCollins, highlights over 30 New York City small businesses that, in addition to helping the local economy, have opened their doors to create loving homes for cats that might otherwise be homeless. Sisters and Queens natives Erica and Sara Kubersk founded MooShoes, one of the shops featured in the book, where they have a long history providing permanent homes to cats while also fostering felines in need.
Shop Cats of New York
Erica and Sara appreciate Tamar's book and her desire to recognize National Small Business Week through the lens of Animal Welfare saying, "Small businesses and animal welfare are such integral parts of their communities and deserve recognition though both are often overlooked.  That's why it is so special to have them join forces."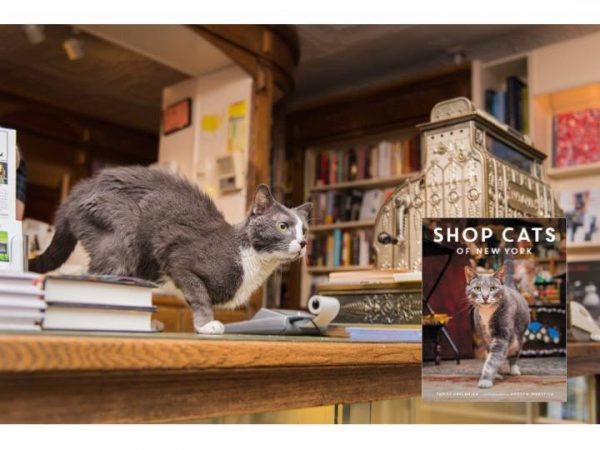 Tamar hopes her book will "Open the minds of small business owners and animal adoption groups to this mutually beneficial arrangement and the potential impact it can have on the shelter systems who are faces with euthanizing millions of animals a year in the US." Though she is quick to point out that, "Not all businesses or cats are well-suited for this arrangement and a vetting process should be in place to ensure the temperament of the cat will work for a particular environment and that the environment is a safe and loving fit for the feline." But there are plenty of other ways businesses can impact Animal Welfare without adopting a pet themselves.
Beyond Adoption: Ways Businesses Can Help Animal Welfare
Fostering animals has multiple benefits:
Freeing up space in shelters for other animals to be saved
Allowing animals who are not good candidates for adoption in a shelter environment and may often be             overlooked for a range of reasons (timid personalities, age or special needs) to show off their true personalities and charm potential adopters.
Introduce animals to potential adopters who my be reluctant to visit a shelter or have been meaning to but have been putting it off.
Additional ways businesses can help:
Partner with a local rescue group to host adoption days which also helps bring in foot traffic on slower retail days.
Donate a percentage of sales to a local animal welfare organization
Distribute information educating customers about local animal welfare groups and how they can get involved
Have a donation jar at the register for a specific local animal advocacy organization or shelter.
Office Cats Too!
Years ago, we had a cat that made his home in our office.  We named him Sunny D because he was orange and sweet. Without our office, Sunny D would have been homeless or worse.   And having Sunny D in our office was good for us too! "Studies have demonstrated that pets in the workplace contribute to stress reduction, as well as employee teamwork and satisfaction. Employees who can bring their pets to work are also more productive," said Steven Feldman, executive director of the Human Animal Bond Research Initiative (HABRI) Foundation in Washington, D.C.
Sunny D was adopted by a man who fell in love with him visiting  through the window at night.
H & R Block, the business beside us, had a resident cat named Oreo. This handsome tuxedo cat had a hammock in the front window to soak up the sun. Without his office home, Oreo too would have been on the streets.  We began to see more cats in offices along the street and it was heartwarming to know they were being cared for and lifting the spirits of the employees too!
A few of the business owners looked after the feral colony that lived in the alley behind our businesses.  This is the same colony where we rescued our Mercy.
Friends in the NYC Area!
To honor this positive impact "Shop Cats of New York" author Tamar Arslanian has teamed up with vegan boutique MooShoes in NYC to host a happy hour with vegan drinks and snacks on May 4, 2017 from 6:30-8:30 pm. In the spirit of the evening 10% of all sales during the event , along with $10 from the sale of each book will benefit the local charity Positive Tails Inc.