We Play Fling-ama-String While We Wait on Spring!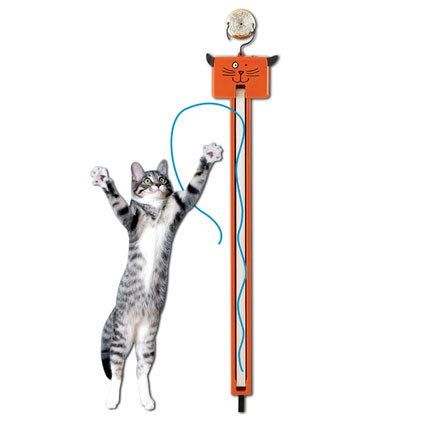 Eddie especially loves the Fling-ama-String toy. He will play and play any time we turn the toy on for him. This has been a great way for the cats to burn off some energy during these cold months when the sun room is off limits due to the freezing temperatures.
About The Fling-ama-String
The Fling-ama-String hangs on any standard door knob, is battery operated and when is turned on is an automated string-flinging machine.
One end of a long silky brightly colored cord is attached to a white, flat, elastic "conveyer belt" which is constantly rotating. The cord flings in and out for non-stop pouncing action. Cats can nip, paw, pounce, and ultimately stop the string, but as soon as they let go, the string automatically starts to rotate again and again and again! It's like having a personal trainer for your cat. The fling-ama-string has 2 speeds for fast or slow flinging.
There is no assembly required and the toy just takes 3 AA batteries (not included).
Award Winning Cat Toy!
Best New Cat Product (Global Pet Expo)
Editor's Choice Award (Cat Fancy)
Product Excellence Award (Pet Age)
Best in Show Award (Global Pet Expo).
Fling-ama-String Giveaway sponsored by the ASPCA
Just in time for the holidays when we cat might get extra treats, and need to increase our exercise, our friends at the ASPCA generously gave me 5 Fling-ama-Strings to giveaway to members of The Tiniest Tiger community!Can't Wait? Purchase the Fling-ama-String and Support the ASPCA!
Support our friends at the ASPCA with your Fling-ama-String purchase. 40% of the purchase price goes toward supporting the ASPCA. Pounce here to purchase the Fling-ama-String
The Fling-ama-String Giveaway
Two member of our The Tiniest Tiger Community will win a Fling-ama-String. Because of the size and shipping this contest is open to residents of the USA only. Sorry about that.
To Enter:
Enter your information in the contest widget and leave a comment below telling us which door you will put your fling-ama-string on to entertain your cats.
The Rules:
This contest will end on March 10, 2014. Please one comment per person. I will enter all names in to Randomizer.com. The winner will be notified by email or through facebook depending on the contact information you provide. If you connect through facebook, check your Other messages not just your main messages. Make sure you are watching for an email from us. The subject line will say fling-ama-string winner! Void where prohibited by law.