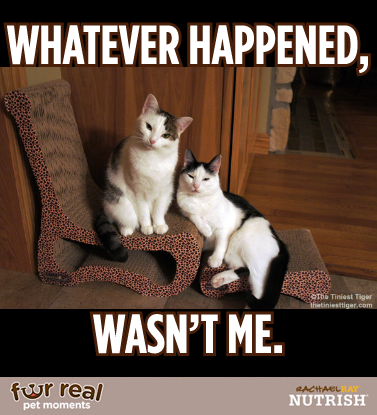 The Fur Real Moments of Pet Parenting
Our cats are part of our family and we love them unconditionally. No matter what they do, we forgive them immediately because they bring us joy and laughter 95% of the time, right?  But there are  "Fur Real" moments when being a pet parent is a little challenging.  Those times when they remind us that being a pet parent takes patience, tolerance and lots of cleaning supplies!!
The Fur Real moment photo at the top of this page was when Paul and I were installing child-proof latches on our cupboards after Annie and Eddie's late night raids of the treat cupboard.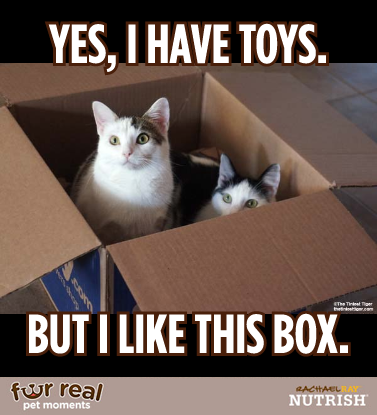 We often have empty boxes cluttering up our house, well because we have three cats!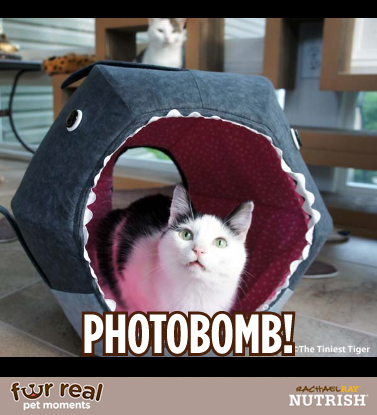 A friend visiting said our sun room looks like a play room in a  daycare center only for cats.  She is right, because the sunroom has been claimed as the cats' territory.  They love to be in the sun room and spend a large part of their day playing with their toys…when they aren't in a cardboard box.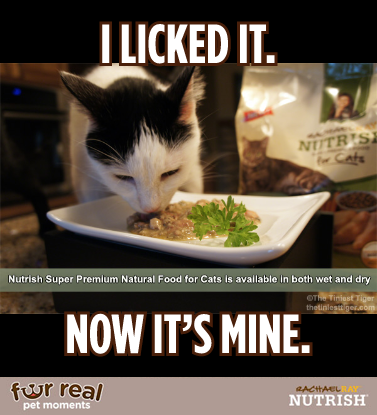 They keep us on our toes. Sometimes when we are attempting to create the perfect photo, they just can't resist temptation.  Eddie didn't take any chances that Mercy or Annie were going to get first licks on this meal!
Mercy is a cat of few meows, except when it is time for breakfast.  At 6:30 am  we get the loud meow followed by the look, as you can see in the image above. There is no rolling over and sleeping in when Mercy wants his breakfast.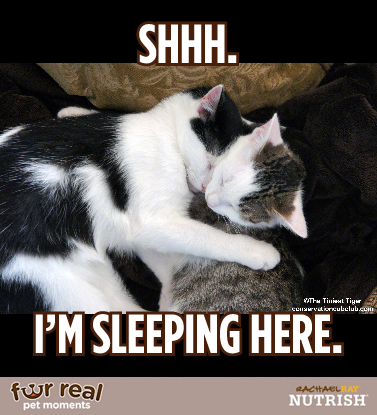 We wouldn't have it any other way.  Because for every time we have a pet parent moment, we have 100 times the moments that melt our hearts.
Enter the Nutrish "Fur Real Pet Moments"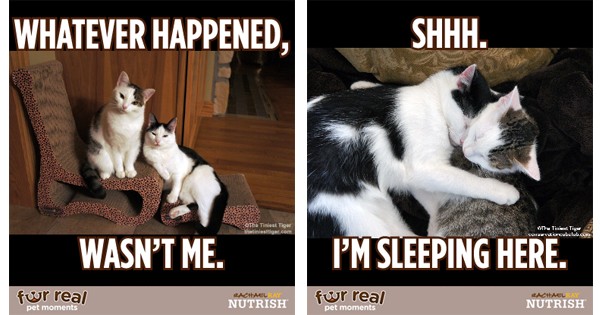 Do you have  a "Fur Real" moment that you have caught on camera? Your photo could help you win a year's supply of Rachael Ray's Nutrish and a $1,500 cash prize!
Rachael Ray Nutrish has launched the "Fur Real Pet Moments" contest,  and this is your chance to win a one-year supply of Nutrish and $1,500.
Entering is easy using the "Fur Real Pet Moments" meme generator. It's fun too. Once you start, it's  hard to stop creating these fun images.
One lucky winner will receive a $1,500 cash prize plus a year's supply of Rachael Ray's Nutrish, created with simple ingredients like real meat and wholesome veggies.
All three of our cats are rescue kitties so we love that Rachael Ray's personal proceeds from sales of Nutrish have gone to Rachael's Rescue  to purchase not only food but medical supplies and treatment as well for animals in need. Rachael's Rescue was created for all of the forgotten pets — the ones that might not have someone who loves them as much as you love your pet.
Enter the "Fur Real Pet Moments" contest! today!
You can learn more by following Nutrish on Twitter, Facebook and Instagram, too!