This post is sponsored by Purina. We are being compensated for helping spread the word about the #PetPraising Sweepstakes, but The Tiniest Tiger only shares information we feel is relevant to our readers like great giveaways!
National Pet Month is for Pet Praising!
Pet Shaming is an internet trend where people post photos of their pet with a sign pointing out bad behavior.  These posts were supposed to be funny but if you are like me, I just didn't see much humor in them.  Perhaps because I am tired of the negative commentary associated with cats. Everything from cats don't care about us, to they are trying to kill us, and so on.
Purina knows that we love our cats and to celebrate National Pet Month, Purina is starting the trend of pet praising! Pet Praising highlights all the ways cats enhance our lives through everything they do for us, as well as all the positive aspects of sharing our lives with our little family members.
Annie, Eddie and Mercy are the Soul of Our Home
Annie, Eddie and Mercy are the soul of our home.  They bring life, love and laughter into our lives every single day.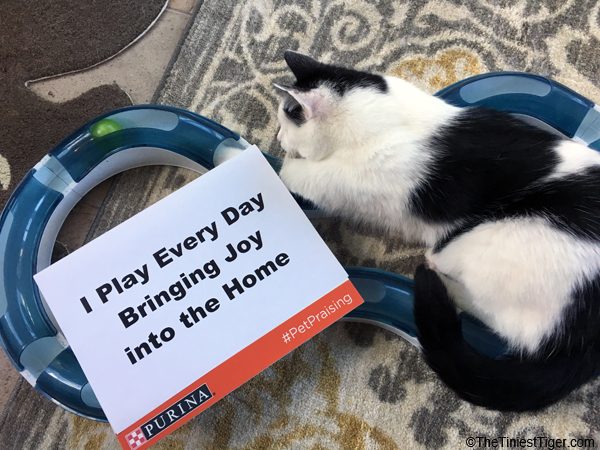 Eddie loves to play.  He plays and plays every single day.  One of his favorite toys in the CatIt Design Senses Track.  When we hear Eddie playing with the track we can't help but smile.  Sometimes we join Eddie on the floor and play with him batting the light-up ball back and forth.  We tried to get Eddie to look at the camera, but he didn't want to stop playing. Eddie definitely brings joy into our home every day.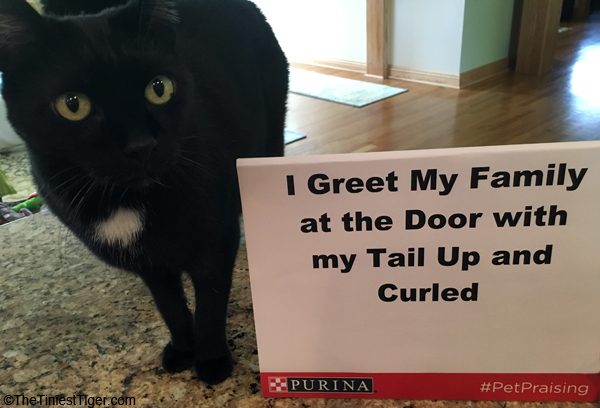 Mercy is the first to greet us at the door.  Every time we come home, we peek in the window and see him running to the door with his tail up and curled.  He is so happy to see us and we are sure happy to see him too. If we don't get the door open in time, Mercy will begin to reprimand us for being too slow.
Annie is a little love bug.  She goes to get Paul to remind him when it is time for him to get some rest.  Because he gets up so early in the morning, he is tired and goes to bed pretty early in the night.  Lately Annie has been going to get Paul  ready for bed earlier and earlier.  She is quite persuasive for only 8 lbs.  Once Paul lies down, Annie moves his arm away from his body just enough for her to snuggle down in and put her head on his arm.  Both of them  are usually fast asleep within 10 minutes. His days can be stressful, but all that stress melts away as soon as Annie purrs him to sleep.
The Pet Praising Sweepstakes on the Pure Love for Pets Website
Want to show your love for your cat and all the love they bring into your life? Purina is inviting pet owners to share their #PetPraising on Pure Love for Pets. Every pet praising photo submitted through the website from April 26th to May 24th has a chance to win the Pet Praising sweepstakes. The winner and their pet will participate in a professional photoshoot, which will be featured on Real Simple.
How to Enter the Pet Praising Sweepstakes
Enter your photo by May 24, 2017 to for a chance to win the Pet Praising Sweepstakes!
To enter:
Visit Pure Love for Pets.
Download the #PetPraising sign template
Print out the template and use a bold marker to praise YOUR pet! (I used the computer and printed mine out to make it bolder.)
Photograph your pet with your sign then upload the photo on the Pure Love for Pets #PetPraising Sweepstakes entry page
The website is also a good resource for National Pet Month with posts on everything from pro cat training tips to summer fun for pets!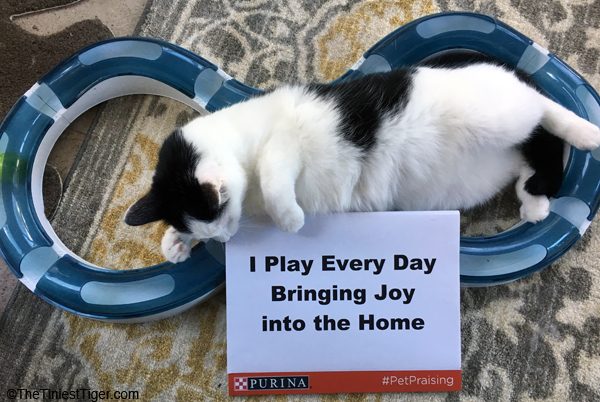 We tried to get Eddie to look at the camera again but no luck.    Pounce now to enter!  #PetPraising Sweepstakes entry page