Enter The Instagram Challenge to Celebrate Grumpy's Birthday in NYC
To help spread grumpiness, Friskies Party Mix is issuing an Instagram challenge to try to collect 1 million frowns in honor of Grumpy Cat's special day. To participate, you can take and share photos of your cats, either by themselves or with you, making your best Grumpy face on Instagram using the hashtag #1MMGrumpyfrowns. The sweepstakes will run from March 18 to April 7 and one grand prize winner plus a guest will receive a 3-day, 2-night trip to New York City to attend Grumpy Cat's birthday party on April 29. Additionally, 10 first prize winners will receive a Grumpy Cat plush toy and 50 second prize winners will receive Friskies Party Mix.
Grumpy Cat Birthday Party
Grumpy Cat is entering the terrible twos and all she wants for her second birthday is to spread grumpiness. So our friends at Friskies put together a Grumpy Cat Birthday Party Pack for Annie, Eddie and Mercy and they gave us an extra one to giveaway to one of our friends. We celebrated today and I think you will agree that our three cats made their best efforts to spread grumpiness at their party. Oh and Paul participated too.

Setting Up For the Party
Paul and I opened up our Party Pack and found all kinds of fun things inside. Annie, Eddie and Mercy were super curious and they came down into the man cave to see what was happening. We hung up the Grumpy Cat poster and put the party hats together. I think the sound of the Friskies Party Mix really got their attention.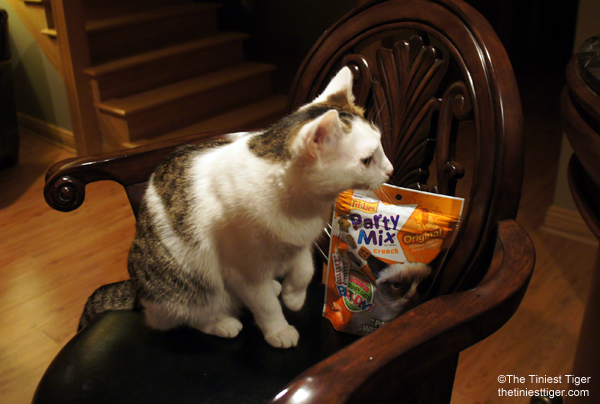 Annie tried to take off with a bag of Party Mix but she didn't get too far. Eddie was very busy sniffing plush Grumpy.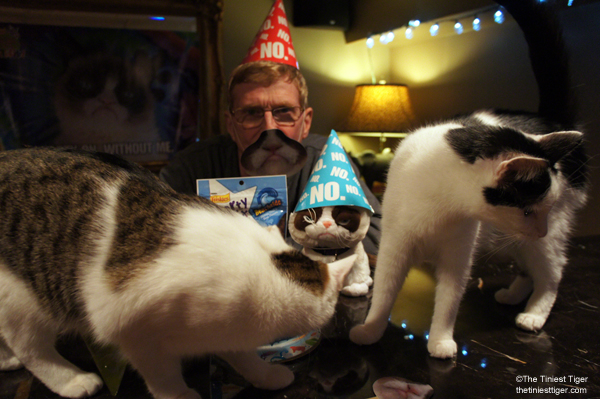 Well, we had the best of intentions but only Paul and plush Grumpy kept their party hats on. Annie and Eddie shook their hats off before I could even get a photo. And Mercy…..
well as you can see, he is looking a little traumatized at the prospect of wearing a hat, so we didn't make him. But he was sure happy to chomp on the Party Mix when the bag was opened.

Let's Get This Party Started
Once the Friskies Party Mix was opened, the party was in full swing. Everyone was having a good time, except for plush Grumpy of course.

Eddie Makes His Best Grumpy Frown
After a few snacks, Eddie was willing to cooperate and make his best Grumpy Frown. But Annie…..
..well, Annie is making her own Grumpy frown even without the frowny face on a stick. In fact, Paul said she looks a lot like me when I raise one eyebrow at him.
The Friskies Grumpy Cat Birthday Party Pack Giveaway
One member of our The Tiniest Tiger Community will win a Friskies Grumpy Cat Birthday Party Pack.
The Birthday Party Pack is packed full of fun.
• 5 Birthday Hats
• 4 Frowns on a Stick (for humans)
• 2 Frowns on a Stick (for cats)
• 1 Grumpy Cat Plush
• 1 Cat Collar and tag (for Grumpy Cat plush – or your cat!)
• 1 Grumpy Cat Birthday Poster
• 2 Bags of Friskies Party Mix featuring Grumpy Cat
To Enter:
Enter your information in the contest widget and leave a comment below telling us if your cat is Grumpy or Happy to wear a party hat. Even better, upload a photo of your cat making their best Grumpy Face.