Cat Groom Many Hours Every Day
All cats groom even the big cats.  According to an article in the Journal of Feline Medicine and Surgery, our house cats will groom on average 3.6 hours per day, or about 25% of  their waking hours while others sources estimate adult cats can spend up to 50% of their waking hours grooming.  The FURminator® deShedding Tool reduces shedding up to 90%. So by helping them remove their undercoat and loose hair, your cat will have a bit more time to play and bird watch.
The FURminator's deShedding Edge Removes Hair Rather Than Cutting
One of the great things about the FURminator is that the deShedding tool's edge actually removes hair rather than cutting or stripping the hair. The stainless steel edge reaches deep beneath your cat's topcoat to safely remove undercoat and loose hair.  There is also a FURejector button that cleans and removes loose hair from the tool with ease.
Give Your Cats Time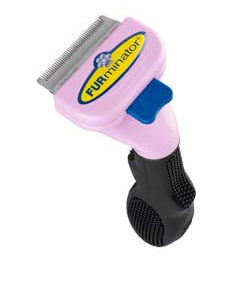 Annie, Eddie and Mercy like to get their spa treatment especially now that it is hot outside.  It must feel good to get all the extra fur removed so they feel cooler and their coats are smooth.   And less time grooming might mean more time playing.  Which is more fun for the cats and for us.
The FURminator®  deShedding tool Giveaway

One lucky friend of The Tiniest Tiger will win their choice of FURminator deShedding tool
To Enter:  This Giveaway is Closed.   Check back for more exciting giveaways coming soon!
Check out the FURminator deShedding tools on their site.   FURminator     Tell us in a comment below which FURminator you will choose and how often you brush your cat or dog.
Enter your information in the contest widget so we know where to ship your prize if you win.
The comment below this post is important. If your name is drawn and you didn't leave a comment, another winner will be chosen.
The Rules:
Winner must reside in the US, but readers outside the US are welcome to enter and gift their prize to a friend or shelter in the United States. Winner may only win once across participating blogs. This contest will end on June 19, 2014. Please one comment per person. I will enter all names in to Randomizer.com. The winner will be notified by email or through facebook depending on the contact information you provide. If you connect through facebook, check your Other messages not just your main messages. Make sure you are watching for an email from us. The subject line will say FURminator Winner! Void where prohibited by law.
This post is sponsored by FURminator. I am being compensated for helping spread the word about FURminator, but The Tiniest Tiger only shares information we feel is relevant to our readers. FURminator is not responsible for the content of this article.