Congratulations and Super Hurrah to Amy D, the winner of the Gracey Accessories Bundle!
Don't worry if you didn't win this time! There are lots of opportunities coming with the Red Carpet Cat Event!  RSVP here
My Gracey Accessories™ Are Here!
I have been busy directing the photo shoot for my new line of Gracey Accessories™.   They were just delivered to my habitat and I think they turned out just terrific.  I sure hope you like them  too.
We started  Triple T Studios™  to create uniquely designed handbags and accessories. Fashion with a Passion™ for global conservation. Our goal is to be able to support our friends the Lion Guardians and many other global conservation programs. We were in Namibia at the Cheetah Conservation Fund for a few weeks this summer and we have a lot to share with you about our experience there too.
Triple T Studios launched our first product, The Tiniest Tiger Hipster on the red carpet for the 2012 Academy Awards. The bags with the feline finesse quilting were a big hit in Beverly Hills and were even chosen by The Humane Society to be a gift for the presenters at the 2012 Genesis Awards!
Now we are preparing to rock the red carpet once again during the Red Carpet Cat Emmy Event! Stay close by for upcoming details about this super fun event.  You might even want to sign up for our free newsletter so you don't miss any of the Red Carpet Cat Opportunities!
But back to the new Gracey Accessories! I thought maybe the best way to help me get the word out about our new products would be to host a giveaway here on our Conservation Cub Club.  I took my time to make sure that the fabric was just right so the accessories complemented the cat quilting of the handbag line.  So, I designed the Gracey accessory fabric to have just a bit of whimsy and fun to tuck inside the more sleek and sophisticated hand bag line.
The Gracey Accessory Fabric
The Gracey Accessories include:
The Gracey ID/Key
The Gracey Coin/Camera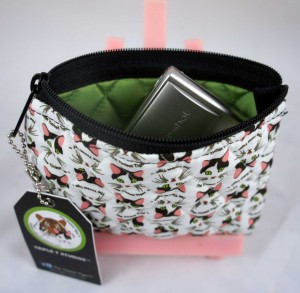 Gracey Cosmetic Bag
and the

Gracey Pen and Brush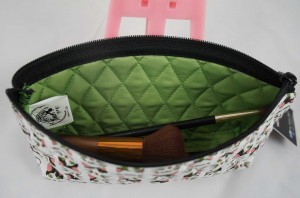 More images and  the size and other details are available at our Triple T Studios store. Here is the link: http://triple-t-studios.com
The Giveaway!
I will be giving away a Gracey Accessory Bundle!  One of each of my new products; one Gracey ID/Key, one Coin/Camera, one Gracey Cosmetic, and one Gracey Pen and Brush.  Super Hurrah!