It seems almost every day something curious about cats pops up in the news. I often find myself reading the cat news and wondering what you might think about some of the interesting new products, trends and ideas that surface on the internet. So we started the Reader Opinion Poll where post a couple of cat topics and then we can all weigh in with what we think about them.
At the end of each topic summary, there is a poll that asks you to vote by selecting Purr, meaning you like this idea, Hiss, meaning you don't like this idea. and Yawn, meaning you are indifferent; you neither like nor dislike the idea. Here is the first topic.
Grumpy Cat Odor Eliminator

Grumpy Cat licensed out their name with ACCUY Natural Solutions to release an odor eliminating product that is organic, natural and safe for consumers and their pets. The product is 100% guaranteed.
ACCUY Natural Solutions is a New Jersey company with manufacturing facilities located in Baja California, Ensenada Mexico.  The company manufactures all natural products used to treat any and all types of organic and ammonia based odors.  The products do not mask odors but bind to the source of the odor converting it into a non-toxic nitrogenous compound that is environmentally friendly allowing for maximum odor control at all times.
The active ingredient in their products is Yucca schidigera.  ACCUY has a sustainable harvesting program in place to meet the demand for their products. The company strives to create a safer environment while continuing to grow as a company.
President George W. Bush Paints His Daughter a Portrait of her Cat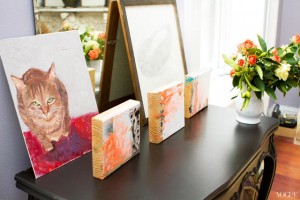 President George W. Bush painted a portrait of his daughter Barbara's cat Eleanor as a Valentine's Day present. According to a recent article in Vogue, the former President took up painting about two years ago and surprised his daughter with the portrait for her  cat.  As it turns out he is an excellent artist and enjoys painting.
Don't miss out on The Tiniest Tiger News :
Our Reader Opinion Poll Posts:
Cats Love Calvin Klein Cologne  Reader Opinion Poll
Cat Tail Vaccines and Cat in Hunger Games Reader Opinion Poll
Brides Throwing Cats and Cats in Tights Reader Opinion Poll
Lagerfeld Cat Collections and Cats in Turkey Reader Opinion Poll
Wine for Cats and Cat Cafes Reader Opinion Poll