Why Is Grumpy Cat's Odor Eliminator Different?
Grumpy Cat's™ Odor Eliminator does not simply mask or act as a temporary cover-up for unwanted odors.  Instead, it uses 100% USDA-certified organic ingredients including Yucca schidigera. This plant has been used as a cleaning product and in more recent times to reduce ammonia levels, which are the leading cause of unwanted odors.
We love that the company has a sustainable harvesting program for the Yucca schidigera used in their products and that  Grumpy Cat's Odor Eliminator contains no corrosive, dangerous chemicals or enzyme-based ingredients  that are harmful to your home making it safe to use around people, pets and plants.  Grumpy Cat's Odor Eliminator is the ONLY product in its category to have a full seal of approval by the USDA as organic.How Does It Work?
Grumpy Cat's™ Odor Eliminator uses only 100% all-natural, USDA-approved organic ingredients to destroy the toughest of odors right at their source. For use on any type of water safe surface, these natural elements break down and accelerate the decomposition process of odors commonly produced by urine, vomit, feces and more.
Grumpy Cat's Odor Eliminator:
1) Attacks the odor at its source
2) Naturally binds to the odor keeping it from escaping
3) Breaks down the odor's chemical composition and causes it to quickly decompose, eliminating the odor
Grumpy Cat's Odor Eliminator Giveaway
I know I am excited about getting rid of odors in our home.  My office is right across the  hall from one of our litter pans and sometimes things get a little potent during the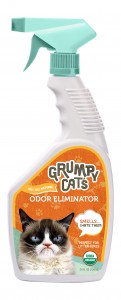 day.  The nice folks at Grumpy Cat's Odor Eliminator are offering a free bottle to 3 friends of The  Tiniest Tiger because they thought  you might hate smells as much as Grumpy Cat does.
To Enter:
Enter your information in the contest widget.
Come back and leave a comment below telling us what smell you hate the most that you want to eliminate.
You will find many options for additional entries in the widget including signing up for The Tiniest Tiger news.
The Rules:
This contest will end on January 21, 2014. Please one comment per person. I will enter all names in to Randomizer.com. The winner will be notified by email or through facebook depending on the contact information you provide. If you connect through facebook, check your Other messages not just your main messages. Make sure you are watching for an email from us. The subject line will say Grumpy Cat Odor Eliminator Void where prohibited by law.