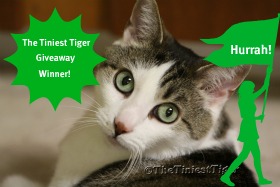 Super Hurrah for Janet Vandenabeele the Winner of the Angry Birds Toys!
Happy September Friends! As a super exciting way to start the month, we  wanted to introduce to you, the all new, Hartz Angry Birds  cat toys!  This past weekend at blogpaws we had the opportunity to learn about these exciting new toys that will be available for the holidays.  Jennifer and Alex from Hartz invited  us  to learn about the fun new toys and they are so nice, they gave us a few toys so that we could share them with you! These toys will be heading to a retail shelve near you in October. But you can get a sneak preview right here with The Tiniest Tiger. Super Hurrah!
On the way home I thought who would be better to tell you about Angry Birds other than our very own angry bird, Bossy Backyard Blue Jay. After a close inspection of the Angry Birds toys, Bossy Backyard Blue Jay thinks they look like cats would have a lot of fun with them and that they would be a terrific distraction from messing with the bird population. Especially  the Catnip Heads. Most Cats will surely take a nice long nap after a round of play with these
nip infused toys.
Here is
Bossy Backyard Blue Jay

to tell you about the fun new toys and the giveaway.

BIRDS GONE CRAZY are  sure to keep your little furry friend busy swatting, chasing and hunting. Modeled after  a traditional favorite toy, these Angry Birds characters complete with a bell inside will keep your cat from thinking about my feathered friends for hours on end.

CATNIP HEADS is a refillable toy. You choose your favorite cat nip, I recommend

TipsyNip, then you stuff the nip into the Catnip Head and just like that instant distraction.  Your cat will pounce and play until they curl up and take a nice long nap. And aren't cats really the cutest when they are sleeping?  Don't tell Gracey that I said that.

ANGRY BIRDS WAND is an interactive toy that enables you humans to engage in play with your cat for hours of fun. Hours of fun! This is good for both you and the cat sharing your habitat and the birds that surround your habitat.  The Wand comes with two catnip refillable characters with feathers and a bell attached.

RUNNING BIRD stimulates your cats predatory instinct to hunt. Listen, we birds

know all about this instinct in your feline. That is why this might be my favorite toy but I don't want to sway you.  The RUNNING BIRD toy shakes and vibrates across the floor when you pull its tail. This teasing makes it irresistible and your cat will surely pounce.  As an added attraction, this toy is catnip refillable too! Yes, your little loved ones will be hunting and playing and then yawning and napping.  Perfect just in time for the fall and winter bird feeder season.

Now you don't have to take my word for it.  You might be finding your own Hartz Angry Birds cat toy in your mailbox very soon.  Here is all you have to do:

Leave a comment here, telling me:

1) Which bird is your favorite. You don't have to say Blue Jays, but it wouldn't hurt. ;)

2) Which Hartz Angry Birds Toy do you think your Cat would like best.

That's it! Super Easy.