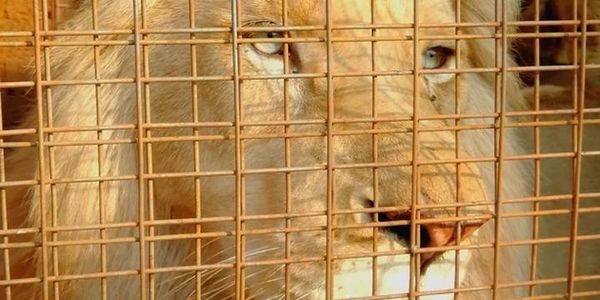 Please Help Save Mufasa
When Mufasa was just a cub in 2015, he was confiscated from an owner who was keeping him illegally as a pet. The lion cub was relocated to a wonderful rehabilitation center in South Africa where he was intended to live temporarily until the legal case against his former owner was over.
Another lion cub named Soraya arrived at the rehab center about the same time as Mufasa. The center put the two cubs together to keep each other company and they have become inseparable.  The rehabilitation center has given both lions exceptional care at their own expense.
In November 2017 the court case against Mufasa's owner was resolved. The rehabilitation center immediately worked to get the permits to move both lions to the sanctuary.  The center was stunned when they were told by the authorities that Mufasa would not be relocated to a sanctuary but was to be sold to the highest bidder in a public auction.
The South African government treats captive-bred lions like Mufasa as a commodity.  Mufasa is located in The North West Province considered ground zero for South Africa's lion hunting industry. This province reportedly accounts for 80% of lions hunted in South Africa each year.
Mufasa's story demonstrates the horrible reality of South Africa's lion bone trade and canned hunting "industry." Officials want to auction Mufasa off to be killed in a canned hunt or slaughtered for his bones to be used as bogus Asian medicine even though a well-respected lion sanctuary in South Africa stands ready to take him and provide life-long care.
Time is of the essence!  We CANNOT let  Mufasa's be killed!
We are joining with our friends at Big Cat Rescue and asking you as part of The Tiniest Tiger community to take 1 minute right now to sign the petition.
Speak up for Mufasa and Soraya and implore South African government officials to do the right thing and let these lions LIVE and be moved to the sanctuary!
Pounce here to help save Mufasa
Thank you for caring for all cats big and smalle!