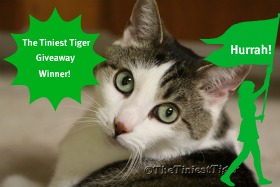 Super Hurrah and Congratulations to our Winners!
First Place-  Aatara
Second Place-  Jacky
Third Place-  Susan Bell
Thank you to everyone for your participation. Stay close by for other exciting giveaways.
No Need for House Cat Hairball Drama!
Today in honor of National Hairball Awareness Day, we thought it would be interesting for everyone to share their own house cat hairball drama. As we discussed in our post House Cat Hairballs, We Need to Talk, hairballs are the one cat issue that cause our parents grief.  With so many salient qualities, we felines might think  our hacked up hairballs might simply be overlooked. But, it is not only the ick factor we need to worry about, chronic hairballs can cause cats serious health problems and when we are sick, that causes our pet parents stress because they love us.
Two Things Pet Parents Can Do to Reduce Cat Hairball Drama
Pet parents can help their cat by using a grooming brush to help remove excess fur.  Remember, cats spend about thirty percent of their time grooming, so this is a super important part of our routine.  And you know we cats are all about our routines.
The second is to ensure your cat is eating a food with a perfect balance of fatty acids. Fatty acids are the fundamental building blocks for healthy skin and coat.
With the right nutrition and good grooming habits,  cats can celebrate a retch free  National Hairball Awareness Day, and our parents will be able to go through the house barefoot again.
Enter to Win Hill's Science Diet Hairball Control Food for your Feline
How to Enter:
Tell us about your house cat hairball drama!  Post in the comment section below your most dramatic encounter with house cat hairballs.  Try to keep your story to 100 words. You may add photos too for added drama.
I did not include photos in this post because many of you visit while drinking your morning thinking beverage and I know that hairballs images are somewhat sickening  to humans from observing my dad.
The Prizes

First Prize Will Win 10 bags of Hill's Science Diet Hairball Control Food of their choice.
Second Prize Will Win 6 bags of Hill's Science Diet Hairball Control Food of their choice.
Third Prize Will Winn 4 bags of Hill's Science Diet Hairball Control Food of their choice.
The Rules
This contest is now closed.  Thank you for your participation.
Stay close by for more exciting giveaways.
This contest will end Friday, May 4, 2012.  Please, only one entry per household.  House Cat Hairball Drama entries will be judged by a panel of cat owners selected by Gracey, The Tiniest Tiger.  Winners will be notified either by email or through their facebook page depending on the contact information you leave with your comment.  Please watch for an email from Gracey, The Tiniest Tiger with the subject line Winner of the Hill's Hairball Control Food.  Void where prohibited by law.
Don't forget to enter our ScratchKabin™ Giveaway too! Pounce  here.
Disclosure: We received no compensation for this post. Hill's Science Diet is providing the Hairball Control Food for this contest.